Prior to setting up your SalesRabbit+JobNimbus integration, make sure to contact your SalesRabbit Account Manager or SalesRabbit Support (support@salesrabbit.com or 801-418-9009) to confirm that the JobNimbus integration is enabled for your SalesRabbit account. Once you've confirmed that JobNimbus has been enabled, you can connect the integration using the steps below.
Part One: Preparing JobNimbus
In order for the integration between SalesRabbit and JobNimbus to work correctly, you will first need to make some changes to your JobNimbus Contact Workflows and identify which Workflow Type, Statuses, Lead Source, and Task Type will be synced with JobNimbus.
1. Create an API Key
Open the API tab in your JobNimbus Settings.
Select New API Key
From the drop-down menu of the "Description" column, choose Sales Rabbit.
Assign an access profile that has Settings access
Click Save


Select Copy next to the newly generated key
2. Choosing your Workflows
As a JobNimbus user with Settings access, navigate to the Contact Workflows tab
Identify the Contact Workflow that you would like your SalesRabbit leads to generate into and select the action menu (...

) to the right of the Workflow name.

Note the name of the Workflow that you've selected for later setup in SalesRabbit's settings.

Select

Edit

.

Seven different lead Statuses are able to sync with JobNimbus:

Callback
Customer
Go Back
Not Home
Not Interested
Other
Data Grid
In order for leads from SalesRabbit with any of these Statuses to sync to JobNimbus, make sure that they are added to your Contact Workflow. If these Statuses do not appear in your Contact Workflow, you can add them by:
Select +Add Status
Input a Status name (copy and paste from the list above)
Select the Lead Stage
Click +Save
Repeat steps 1-4 for any remaining lead Statuses that you want to be synced from SalesRabbit to JobNimbus.
+Update the Workflow to save your changes
Note: The spelling of the Status name in JobNimbus should appear exactly as listed above for leads from SalesRabbit to sync correctly.
If you add statuses to SalesRabbit that you already have in JobNimbus, make sure to spell them exactly the same when you add them to SalesRabbit.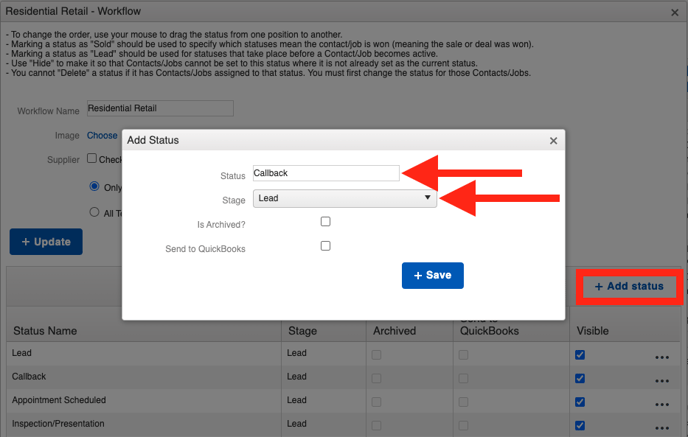 3. Adding the Lead Source
Navigate to the Lead Source tab of your JobNimbus Settings.
Select + Add lead source
Input a Lead Source name to indicate "SalesRabbit".
Select +Save

.

Note the name of the Lead Source that you have chosen for later setup in SalesRabbit's settings.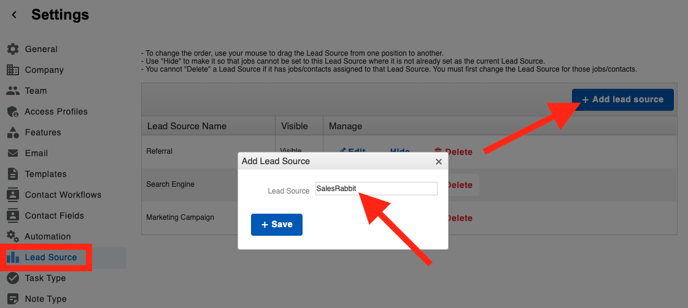 4. Adding a Task Type
Go to the Task Type tab
You will dedicate one of these types to sync tasks from SalesRabbit to JobNimbus. For this example, we will choose "Appointment".

Ensure to note this for later use in SalesRabbit's settings.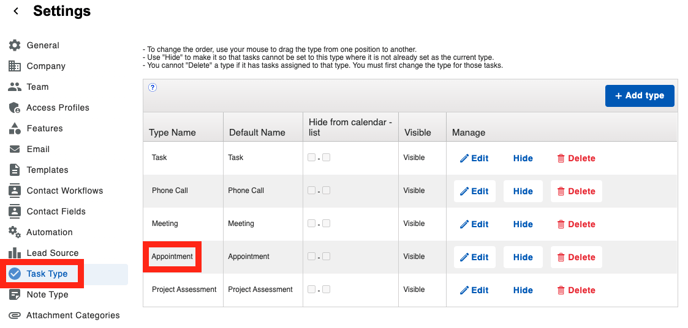 Part Two: Enable the Integration within SalesRabbit
Now that we have prepared JobNimbus to sync with SalesRabbit, we need to finish configuring our SalesRabbit Settings.
Login to your SalesRabbit account


From the left-hand navigation menu, select Integrations.
Select 3rd Party.
In the API Token field, paste in the API Key you copied from your JobNimbus Settings.
Within the Workflow Name field, input the Contact Workflow name you decided on. For this example, we chose "Customer".
In the Task Type field, input the Task Type that you selected in the steps above. For this example, we chose "Appointment".
Within the Lead Source field, input the name of the Lead Source type that you chose. For this example, we added "Sales Rabbit".
Under the Lead Statuses column, select the check box options for the Statuses that you identified or created within your JobNimbus Contact Workflow.
Once complete, select Save

You can easily update and change which statuses you are using in SalesRabbit by selecting Settings in SalesRabbit and then choosing "Lead Statuses" under the Sales column.
In the Lead Statuses tab, you can add a new status by clicking on the "New" button in the top right of the page.

To update a current status, click on the status's name to change its name, abbreviation, icon, or color.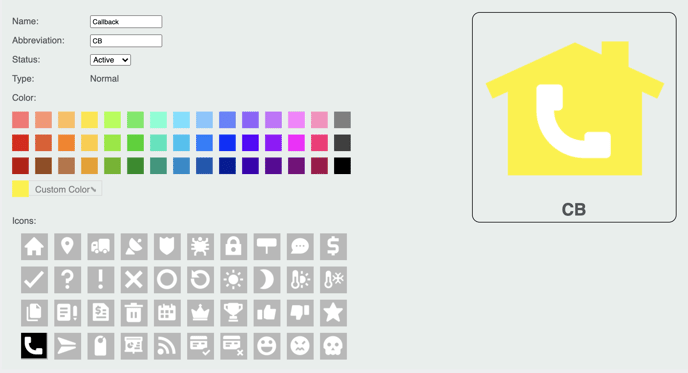 Part Three: Connecting SalesRabbit Users to JobNimbus
The final element to enabling your SalesRabbit+JobNimbus integration is to connect your users from SalesRabbit to JobNimbus.
Back in your JobNimbus account, copy the email addresses for each user.
Within your SalesRabbit account, proceed to the Users tab and click the "External IDs" field on the left-hand side.

Enter the corresponding email address for each JobNimbus user and click the "Add" button.

Repeat steps 1-4 for all desired users.
Congratulations! If you've successfully completed Parts 1 through 3, then you are done with enabling and setting up the SalesRabbit+JobNimbus integration. Now, you can proceed to use the integration as intended.