How do I enable the JobNimbus integration with SumoQuote?
In JobNimbus:
Click on your profile icon or initials in the top right corner
Select Settings from the drop-down menu
From the Settings menu on the left, open the API tab
Click on the New API key button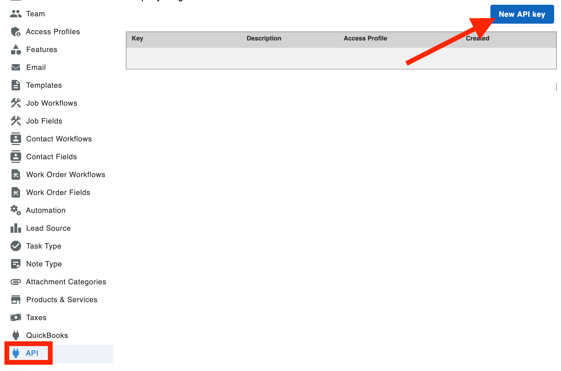 In the API key creator:
Under the Description column, type "SumoQuote" in the text field

This is currently not in the drop-down menu, but you can click enter to save SumoQuote.

Assign an Access Profile with Settings access.
Click Save
Copy the newly generated API Key
In SumoQuote:
Click on the Configuration drop-down menu and select "Integrations"

Select Connect to JobNimbus from the available apps
When the window for JobNimbus pops up, select "I have an API key from JobNimbus"

Paste your API key from JobNimbus and Click "Submit".

After inputting the API key to SumoQuote, click "Copy WebHook URL". This is needed to create your automation.