How Do I Upload External Documents and Photos to JobNimbus?
Upload files that have been created outside of JobNimbus to the associated Contacts.
The steps to upload attachments are identical for both photos and documents. In the following example, we'll be uploading a document.
Navigate to a Contact or Job record
Select the Documents or Photos tab and click "Upload"






To customize your list of Category options, head over to Settings > Attachment Categories.
The default option of the "Category" dropdown menu in the Add Attachment pop-up is dependent on whichever is at the top of the list in your settings.
Click "Browse" to search for the file on your device




Note:
All PDFs will appear under the Documents tab, even if it is assigned a different category and/or uploaded under the Photos tab.
You can also drag and drop the file as demonstrated here: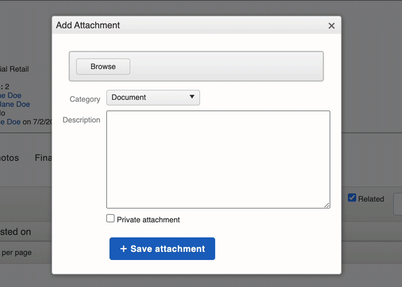 Once you have saved the attachment, click the three dots over on the right side to reveal the following options:



Photos




View the image in fullscreen mode
Download an individual photo
Edit the file's category or description


Editing does not include any sort of cropping, annotating, rotating, filtering, etc.

Delete the image from the record





Documents




View the file in fullscreen mode
Print the document
Download individually
Edit the file's category or description
Delete the document from the record
Keep in mind that while most major file types are compatible, there are some that have not met our security protocols. If you are experiencing trouble uploading a certain file, please contact our Support Team for assistance.
HEIC/F format is not natively supported in any browser. In order to display these types of files, first convert them to a valid format, such as PNG or JPG.
You can make a compatible file the default on an Apple device by going to your General Settings > Camera > Formats and selecting "Most Compatible".