What is naturalForms
naturalForms is a mobile app that replaces paper forms and collects information electronically that exactly match your current paperwork.
What Can You Do
Use industry-leading forms or create your current forms.
Pre-Populate form data from JobNimbus.
Collect form information and auto update contacts or jobs.
Capture and annotate project photos or locations.
Share data between platforms.
How Does It Work
Pre-populate your customer information from JobNimbus, fill out your forms, and automatically sync the form as an Attachment in your Contacts or Jobs folder.
Getting Started
Before enabling this feature, you will first need a naturalForms account. You can find out more about naturalForms and their pricing on their website. If you already have an existing naturalForms account, you will also need to ensure your form's fields are appropriately named and set up as detailed, here.

To connect the naturalForms integration to your JobNimbus account:

From the Features of your JobNimbus settings, scroll down to the section titled "3rd Party Features" and locate "naturalForms". To the right, select the corresponding Enable button.

A new tab titled naturalForms will appear in the left-hand side of your JobNimbus Settings. If the tab doesn't appear immediately, refresh the page. Select the naturalForms tab.
In the naturalForms tab, click on Connection in the top right corner and select "Connect your JobNimbus Account".

At the login screen within the naturalForms tab, input your naturalForms username and password. Select "OK".

Once enabled, the list of templates you have setup in naturalForms is displayed. To enable a template to be used with JobNimbus, just change the Status of a template from "Off" to "On"

Default and Custom Fields
By default, when you enable the integration, the following fields will map from your JobNimbus Contact to naturalForms, if the fields are appropriately labeled within your template:
JobNimbusId
First Name
Last Name
Email
Home Phone
Fax Number
Mobile Phone
Company
Address Line 1
Address Line 2
City
State
State Code
Country
Postal Code
For custom fields, you will manually need to add these to your template, as described here.
Try it out!
At this point, you should be ready to try it out.
Make sure you've downloaded and logged into your naturalForms mobile app
Make sure you've logged out and logged back in on your JobNimbus mobile app
Create a test contact from your JobNimbus mobile app. Be sure to fill in some of the optional fields so that you can verify that the forms are pre-filled in the naturalForms mobile app.
While looking at the contact, click the "•••" button at the bottom middle of the screen
You should see a naturalForms option by scrolling down through the options for you to select
You should see a list of the templates you defined in step 3. Select one or more templates and click "Apply"
You should now be taken to the naturalForms mobile app and you should see the form(s) that you just initiated
Click into the form and you should see that it's been pre-filled with the common fields that you set up in step 2.
Finish filling out the form and click the green Submit checkbox at the top of the screen.
After a few minutes, you should see the final PDF show up back in JobNimbus under the "Attachments" tab.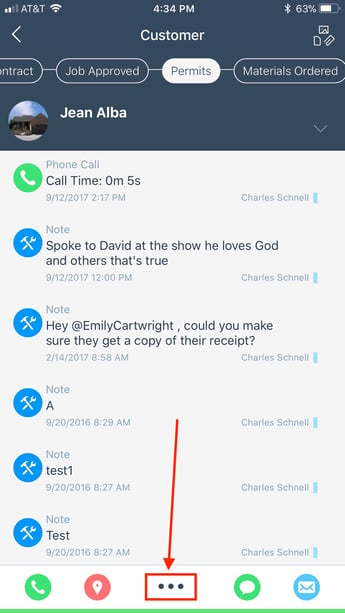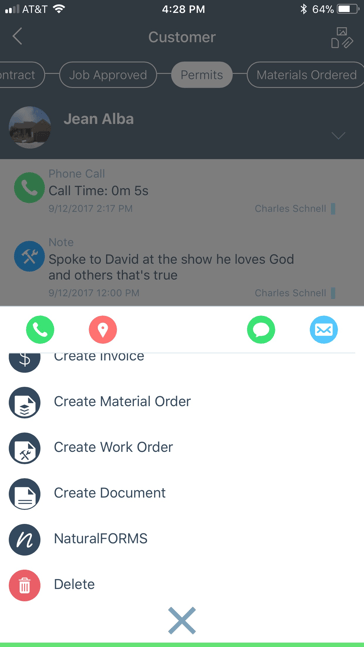 Common Questions:
Will my budget or billing sync with JobNimbus?
The way the sync works is that a .pdf comes over to JobNimbus. It is not integrated with any in application features we have.
Can I sync JobNimbus to work with more than one naturalForms account?
Unfortunately, no. Due to technical reasons, JobNimbus can only be synced with one naturalForms account for a company.
Can I use naturalForms for job records?
While you can create a document through naturalForms for a Job record, it is unable to create a form with any of the parent contact's related fields or information. It is suggested to use naturalForms at the contact-level.

Job fields available for use:
AddressLine1 , AddressLine2 , City , State , PostalCode , Country , SalesRep , JobNimbusId, and custom Job fields.
If you have any questions on getting this set up, don't hesitate to contact us at support@jobnimbus.com.