QuickBooks Web Connector (QBWC) Manual Sync (Force Sync)
Overview:

The Quickbooks Web Connector has a manual update button. This will restart the sync or "force" a sync between QuickBooks and JobNimbus. If you make any changes to records in either system, this will allow you to see if they will come through. QBWC is only for Quickbooks Desktop and is not applicable to the JobNimbus - QuickBooks Online sync.
Performing a Sync:
Prior to performing a manual sync, make sure your settings on QuickBooks Web Connector are set to auto-run every 60 minutes for optimal performance. The auto-run feature of QBWC will allow QuickBooks Desktop and JobNimbus to automatically sync in the background without having to be manually synced.
From within Quickbooks:
Select File.


Select Update Web Services.
Within the QuickBooks Web Connector window, select the Updated Selected button at the top of the screen.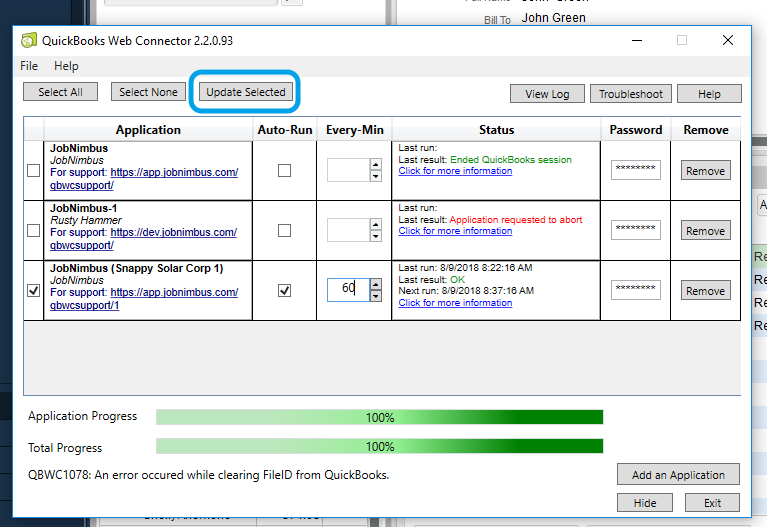 Tips:
If your QuickBooks contains many records and a large amount of data, it is advised to increase the QuickBooks Web Connector sync time from 60 to 180 minutes.

Due to the requirements for JobNimbus and QuickBooks Desktop to sync correctly, it is advised to never set the sync time to autorun any less than15 minutes. Otherwise, the sync process may not work correctly, and your QuickBooks data may be corrupted.