What fields sync to Quickbooks Online?
When setting up your [QuickBooks Online], you will be able to choose which fields sync between QuickBooks Online and JobNimbus.
To choose a Record Type to sync, check the box to the left of the Record Type. You can click "View Field Map" to see how the records will sync.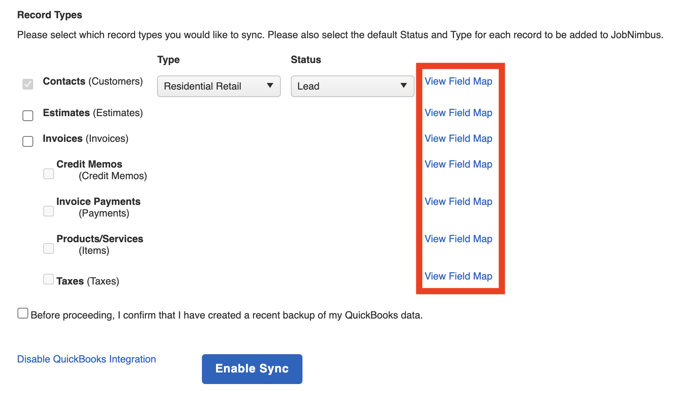 Contacts

Jobs

Estimates

Invoices

Credit Memo

Payment

Products

Taxes



Constraints:
Contact name is on the records' address line 1, so those financial records will have the contact name in the address line automatically inserted in QB (this was implemented due to customer demand). If you select QB as a preference and the name is not where it should not sync with the name there.
Estimates will sync no matter the status.
Vendors do not sync. You should have Quickbooks unchecked in your contact workflows in settings. If checked, they will come into Quickbooks Online as a customer, and there isn't a way to edit them.


JobNimbus matches the payment types in Quickbooks Online through the most closely name method.

JobNimbus CreditCard : Quickbooks payment method where type is Credit Card

JobNimbus Check : Quickbooks payment method where method name is "check or cheque" and type is not Credit Card

JobNimbus MoneyOrder : Quickbooks payment method where method name contains "moneyorder or money or order" and type is not Credit Card

JobNimbus BankWire : Quickbooks payment method where method name contains "bank or e-transfer or direct debit or wire" and type is not Credit Card

JobNimbus Finance : Quickbooks payment method where method name contains "finance or loan" and type is not Credit Card