Purpose
There may be times when you need to customize who on your team has access to update the statuses in a given workflow.
Before we Get Into it
If you need to use Advanced Workflows, you will need to enable the feature in your Settings.
Enabling Advanced Workflows
To enable the Advanced Workflows Feature, click on your name in the top right corner and select "Settings" from the drop-down menu. Then, select "Features" from the menu on the left.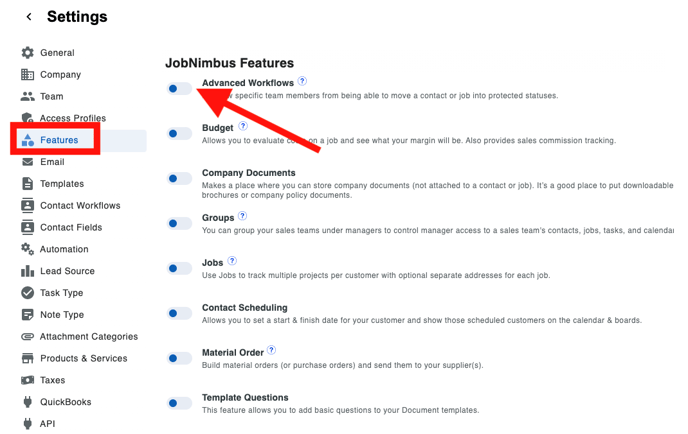 In the Features tab, click on the "Enable" button to the right in the Advanced Workflows row. This will unlock the Advanced Workflows Feature in JobNimbus and will allow you to further customize your Workflows.
Overview
Enabling Advanced Workflows will allow you to customize your workflows further by limiting which team members will be able to move records to selected statuses in your workflows based on their Access Profile. This creates natural checkpoints in your processes. For a refresher on creating and modifying Workflows, read our article here.
To use the Advanced Workflows feature, select the desired Workflow tab from the menu on the left, either Contact, Job, or Work Order, and then click on the 3 dots to the right of the workflow you wish to update.

Once in the Edit Workflow window, there will be a new column with more options for you to customize your workflow.

To update the Access Profile setting in your Advanced Workflow, click on the 3 dots to the right of the status, and select "Edit" from the drop-down menu.
In the Edit Status window, type an Access Profile, or multiple Access Profiles, into the "This status is accessible to:" field. To remove an Access Profile from the status, click on the "X" in the Access Profile.
Do's and Dont's
Do
Use advanced workflows to mark a step you want a particular team to take a hand in a job process (admins, office staff, etc.)
Don't
Use "Access Profile" in Advanced Workflows as a security feature, use it as a natural checkpoint for the workflow
FAQ
I made sure the Workflow types are the same, but I still can't move a contact to another status.
Check your workflow. If you have Advanced Workflows enabled, make sure that you have access to update the status. When in the Edit Workflow window, check the "Access Profiles" column next to the Status to make sure you have the permissions to update the contact to the specific status.