Purpose
Keep all of the documents you need for your team members in one area so they can quickly access them.
Before we Get into it
Enabling Company Documents
To use Company Documents, you will need to enable the feature. To enable the feature, click on your name in the top right corner and select "Settings" from the drop-down menu. From your settings, select "Features" from the menu on the left, and then click on the "Enable" button to the right in the Company Documents row.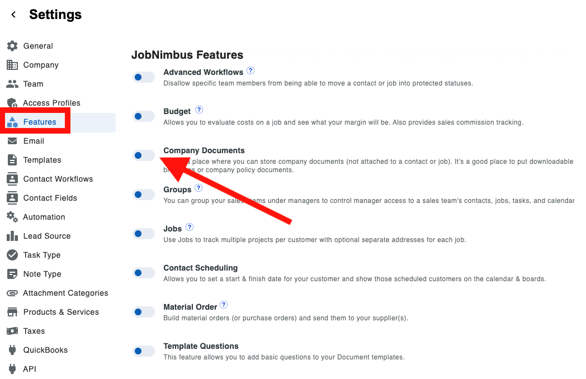 Overview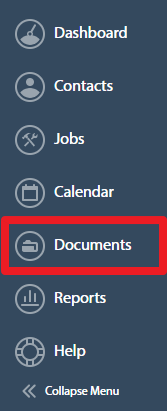 Company Documents is a great feature for storing internal documents in a digital space that all of your team members can access. These documents cannot be used to send to your Contacts or Jobs, but if there are any documents that you need to store for quick access within your company, you can store them within your Company Documents.
Accessing your Company Documents
Enabling Company Documents unlocks a new option in your Dashboard menu, "Documents". To access your Company Documents, select "Documents" from that menu.
Uploading Documents to Company Documents
Selecting Company Documents will open your Company Documents page. This is where all of the documents that your company uses internally are stored.

To upload any of your documents, click on the "Upload Document" button. This will bring up the Add Attachment window.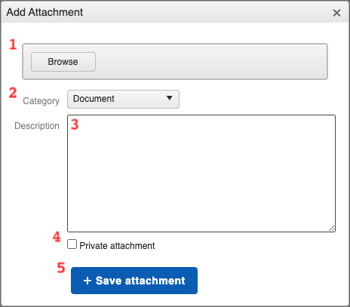 In the Add Attachment window, you can:
Browse your computer for an attachment to upload to JobNimbus.
Choose a category for the attachment you upload.
To create attachment categories, click on your name in the top right corner and select "Settings" from the drop-down menu. Then, select "Attachment Categories" from the left side navigation menu. In your Attachment Categories tab, you can add categories by clicking on the "Add Attachment Category" button in the top right corner.
Write a description for the attachment. This description will appear under the attachment's title in your company documents.
Mark the attachment as private. Private attachments will only be seen by team members with correct permission in their access profiles. To learn more about access profiles, read our article here.
Save your attachment. This will upload your document and save it to your company documents.
Do's and Don'ts
Do
Store internal documents that aren't shared with customers in Company Documents.
Don't
Store documents you want to share with customers in Company Documents.
FAQ
Some of my team members can't see company documents. Why?
The ability to see Company Documents is managed through Access Profiles. To learn more about your settings and Access Profiles, read in our article
here
.
Can I edit/collaborate with others using the Company Documents feature on the web app?
The Company Documents feature are meant primarily as a storage area to share and download commonly used files within your company (flyers, brochures, and sales sheets). The method of storage is solely a remote, upload and download process. There is no current way to edit these directly within your web browser using your JobNimbus. You would need to download and import these files into a 3rd party application such as Google Docs, Microsoft Office, or another applicable program to make changes to these documents. Once complete, you can then upload the document back to the Documents tab on the dashboard for sharing.
How do I restrict access to the Company Documents feature?
Access to the Company Documents feature (Documents via the Dashboard) can be restricted via the Access Profile level. To learn how to limit an Access Profiles rights to access Company Documents and private attachments, read in our article
here
.
Contact Us
Still have a few questions about setting up your company documents? Contact Support at (855) 964-6287 or via email at support@jobnimbus.com.
Have a great idea to help us improve our company documents? Recommend features and vote for requests at JobNimbus Feedback!