What is Global Payments?
Global Payments is a payment processor. As a contractor, you can use Global Payments to help receive pay for your projects. We have found that our top-performing customers prefer an integrated payments software because it's fast. It will help create more efficiency in your workplace, helping you receive the payments you need in a timely manner.
Integrating with Global Payments
Integrating Global Payments with JobNimbus is easy. Once you have set up a Global Payments account, all you need to do is enable the integration in the Payments tab in your JobNimbus settings.
In your settings
Click on Payments
Toggle "Enable Payments"
Select Global Payments
Click "Configure Global Payments"
This takes you to the page where you can enter in your Global Payments Credentials.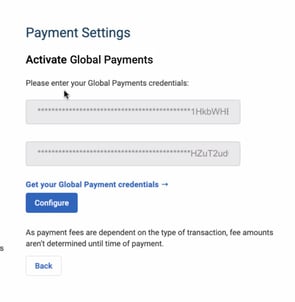 These credentials are given to you from Global Payments.
Once you have entered your credentials and have clicked "Configure", your JobNimbus account will be fully integrated with Global Payments.
If you do not yet have credentials, or if you have not yet signed up for Global Payments, click on "Get your Global Payment credentials" and a Global Payments representative will reach out to you shortly to sign you up and onboard you in using their software.
Please note that it can take up to one week to fully get integrated with Global Payments. Global Payments will onboard you on how to use their software. At the end of your Global Payments onboarding experience, they will give you the credentials you need to integrate with JobNimbus.
Selecting payment methods
After entering your credentials, you will be able to choose what payments you will be receiving through Global Payments. To choose what payments you want to receive, simply click on the checkbox next to the payment option.
You will also choose how you want to pay your payment processing fees. You can choose whether you will pay the fees or pass those fees onto your customers.
Global Payment processing fees are variable and will be negotiated during your onboarding to give you the lowest possible rate they can.
We recommend covering the fees, at least at the start. Most JobNimbus users who are accepting payments are having greater success collecting full payment faster by choosing to waive the fee for their customers.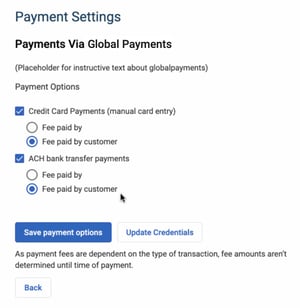 Accepting Payments
Accepting payments is as simple as sending your JobNimbus invoice to your customer, just like always.
That's because all invoices that you send now will include a large green "Make a Payment" button for your customers to click and perform an electronic payment: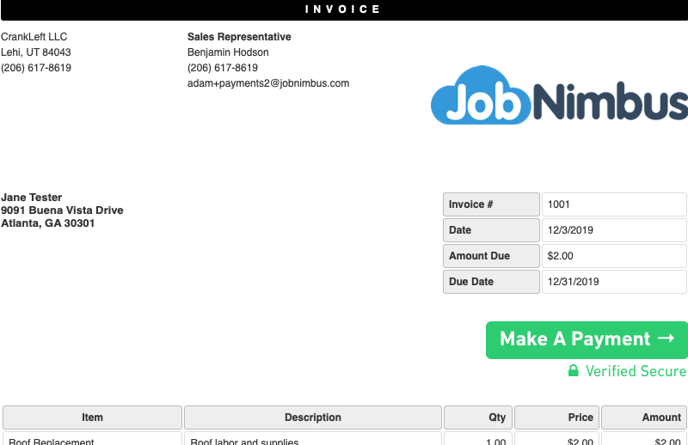 When your customer clicks on this button, they will be taken to a payment screen where they can choose how much to pay and click on their payment method.
After the payment is made, Global Payments will create a payment activity in that Contact or Job's file regarding the payment.

A receipt will also be sent to the Primary Contact and the Sales Representative for that Contact with details of the payment made through Global Payments.
QuickBooks Sync
If you're syncing your JobNimbus account with QuickBooks, these payments will automatically sync over as payments in QuickBooks under their corresponding customers.
This saves you from double-entry, and you know that both systems are always going to match up perfectly.
Support
For any questions you may have regarding your Global Payments credentials, or configuring your Global Payments account, feel free to reach out to Global Payments at 800-744-6462 opt 2, or via email at Support@openedgepay.com.
If you have concerns with payments not being recorded properly in JobNimbus or issue with the web page portal where your Contacts make their payments, you can receive support through JobNimbus at support@jobnimbus.com.