See how to set up your HailTrace integration with JobNimbus
Overview
The HailTrace + JobNimbus integration allows for the seamless exchange of your contacts from JobNimbus into HailTrace. With the imported contacts from JobNimbus, you can get real-time feedback on customers that may have experienced recent storm and hail damage. Additionally, get a complete map of your contacts using HailTrace's built-in mapping tools.
Step-by-Step Guide with ScreenshotsSetup
Within JobNimbus proceed to the API section of your JobNimbus Settings.
Select New API Key
In the "Description" field, type in HailTrace. From the Access Profile drop-down menu, select the default JobNimbus Admin access profile or an access profile with settings access.
Select Save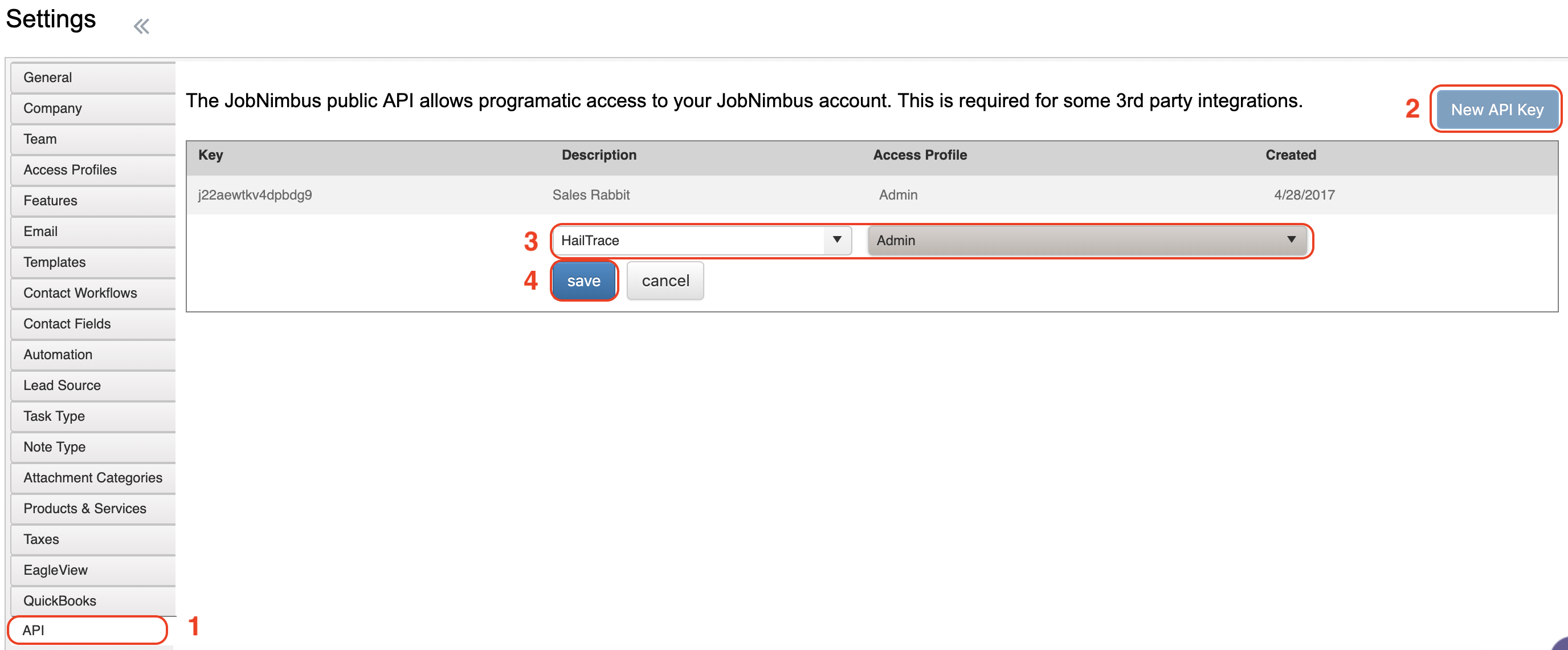 5. To the right of the newly created API key, select the Copy hyperlink.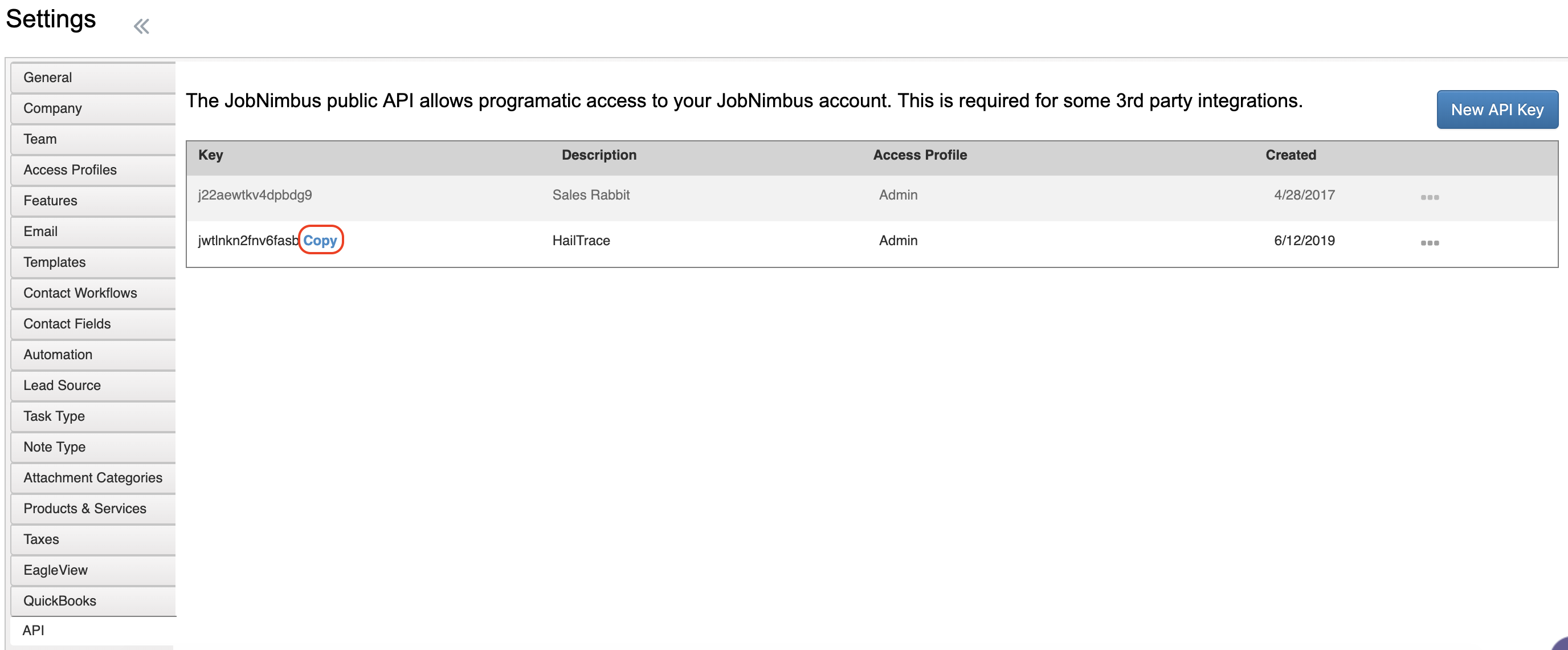 6. Proceed to the HailTrace web app
7. Log in
8. Proceed to your HailTrace Settings by selecting Settings on the left-hand navigation menu (depicted with a gear/wheel icon).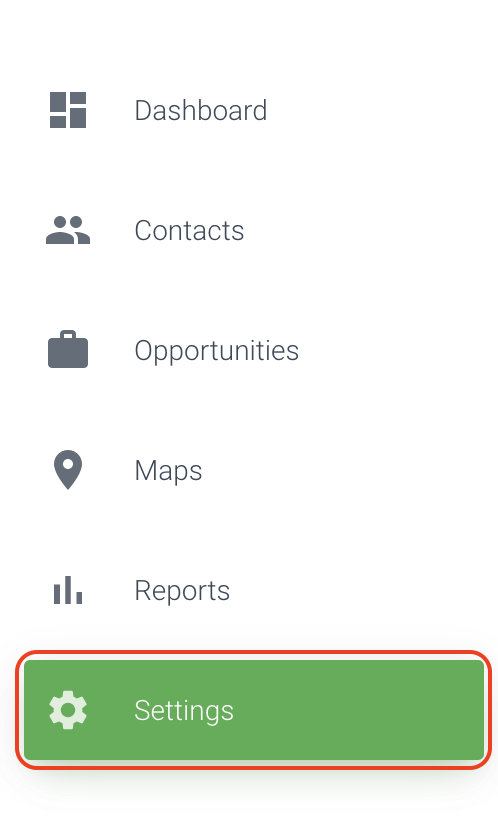 9. To create a custom field for mapping with JobNimbus, select Fields. Select the entity as "Contact". To map to a custom field in JobNimbus, select the Click Here option to create a custom field.

For the field type, you will select Text. Input the desired label and select Save. Once you have created a custom field for mapping to all of your desired custom, JobNimbus fields, proceed to the next step.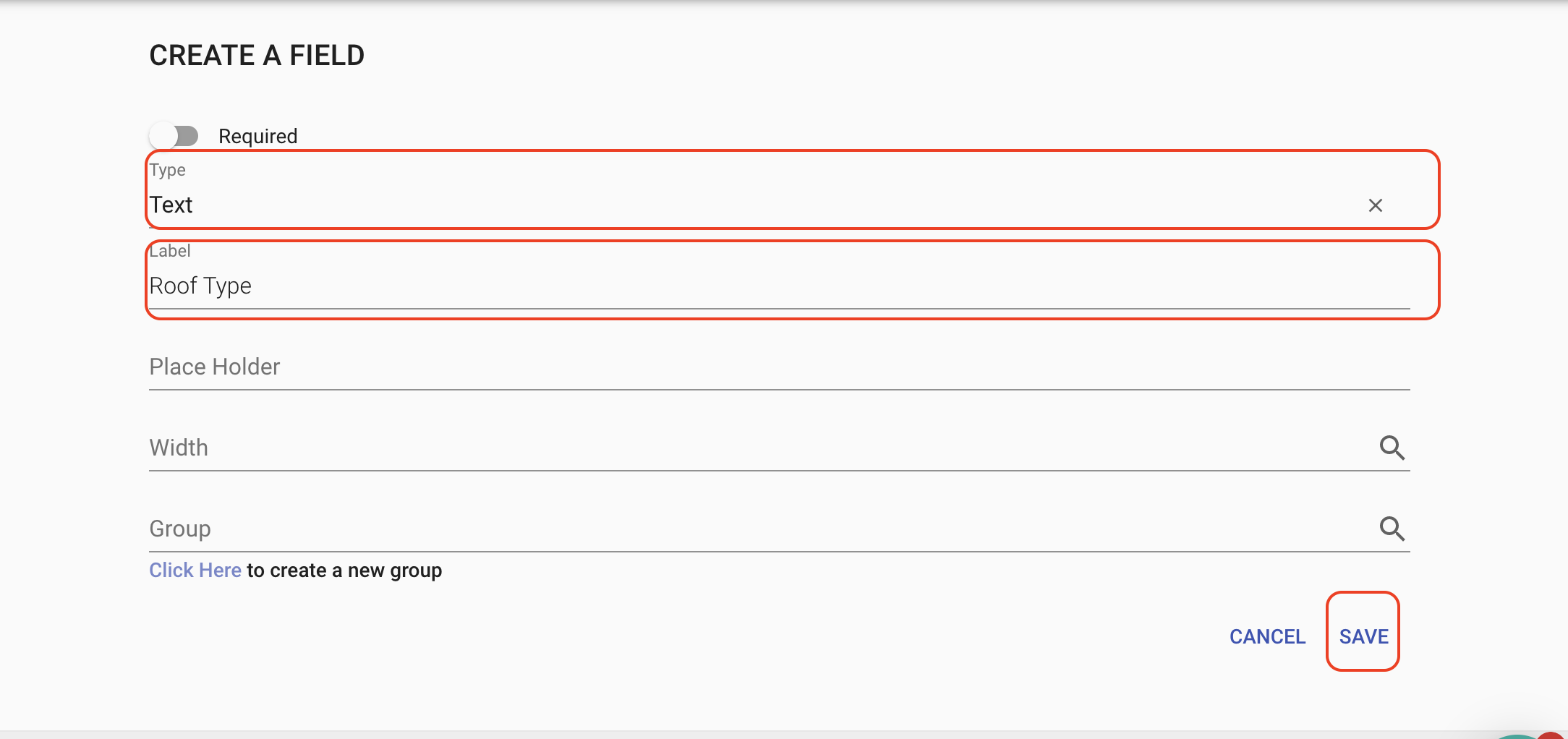 10. From the navigation menu, select Integrations.
11. Below the JobNimbus banner, select the option Click Here to enable the integration.
12. Paste your API key that we copied in Step 5. Select the Save icon.
13. Select the desired contact workflow name and status name that you would like to integrate.
14. Below the API connector, you can proceed to map your JobNimbus custom fields to the newly created HailTrace custom fields created in Step 9.
15. Once complete, select Enable Integration.Congratulations! The HailTrace+JobNimbus integration is now live.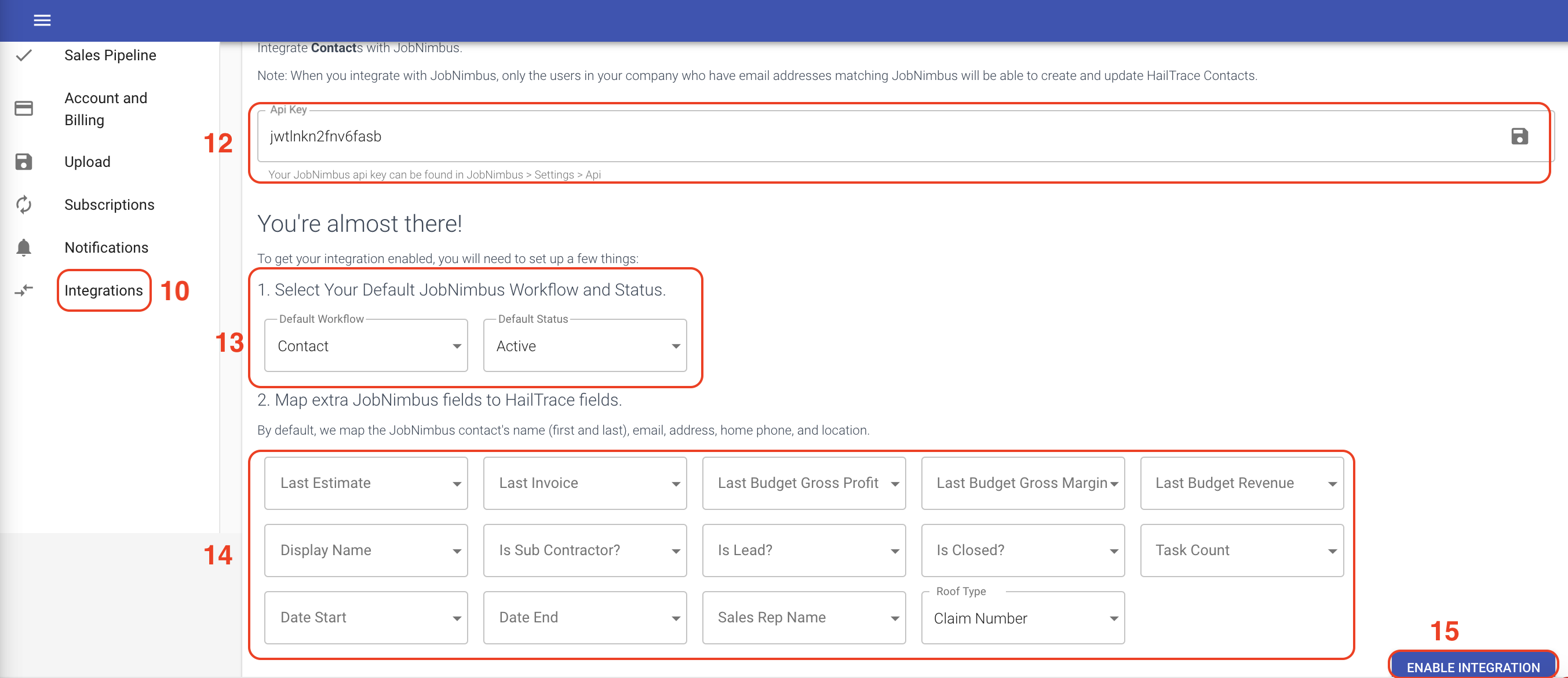 Congratulations! The HailTrace+JobNimbus integration is now live.
Usage
To see a list of your imported JobNimbus contacts in HailTrace:
Proceed to the Contacts section of the HailTrace app.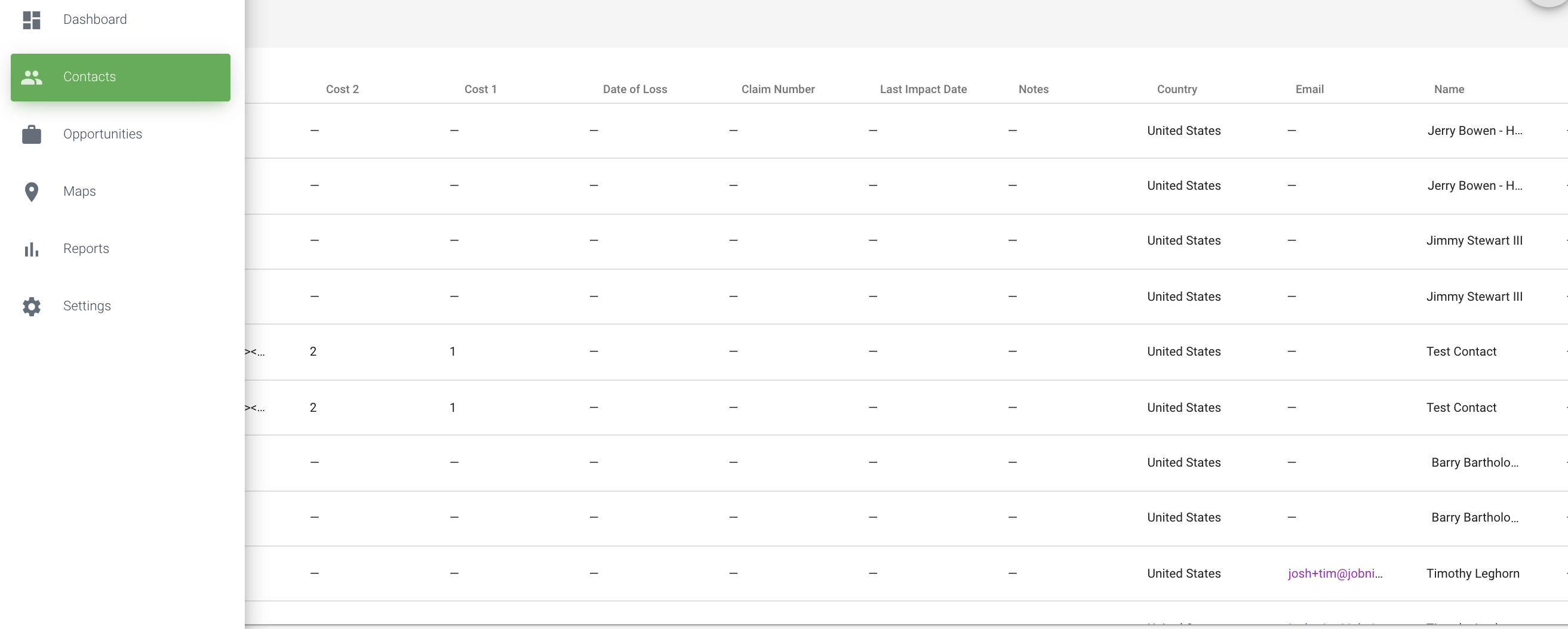 2. There, you can sort and filter data by the fields of data imported from JobNimbus including location and address information.
Pro-tip: To get an added benefit of the integration, you can sort contacts by "Last Impact Date" or "Impact Level" for real-time feedback and sales opportunities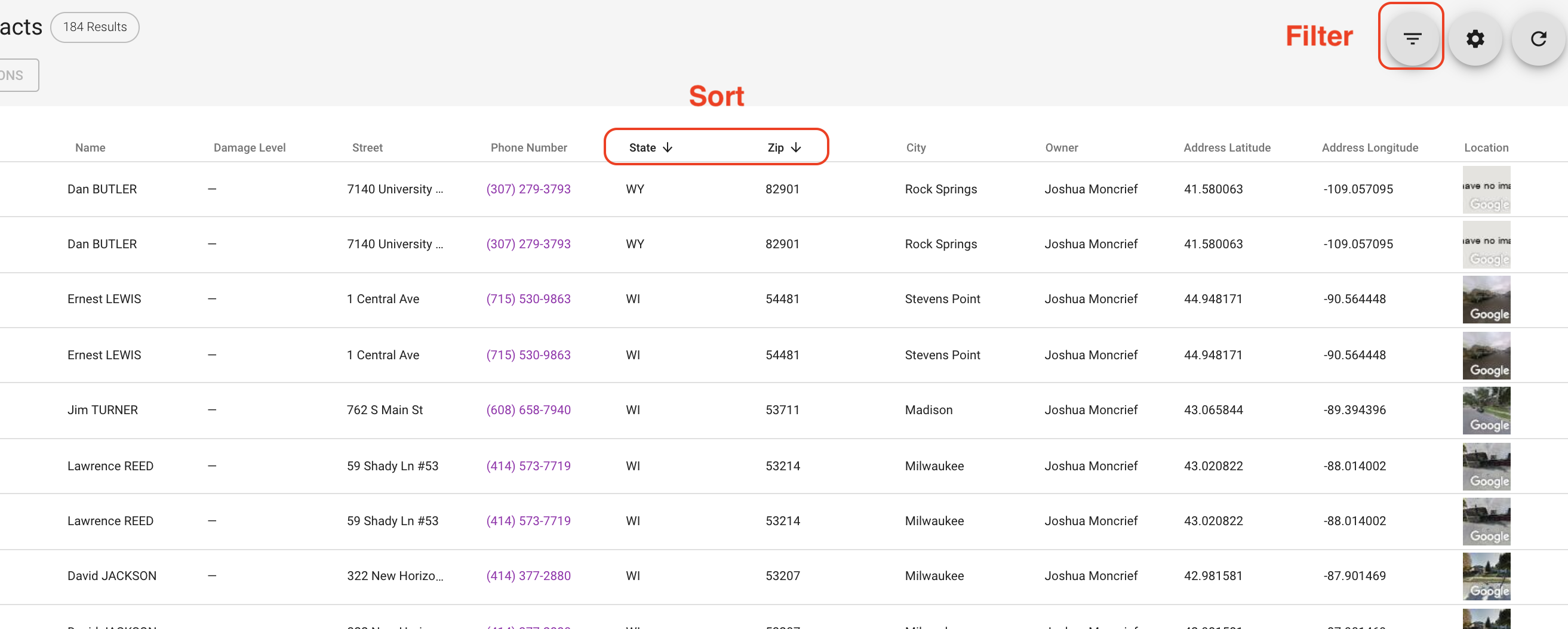 3. For a real-time view of your contacts on the HailTrace map, select Maps from the left-hand navigation menu and select Contacts. All of your contacts will be depicted on a geographic map with their own pin-drops.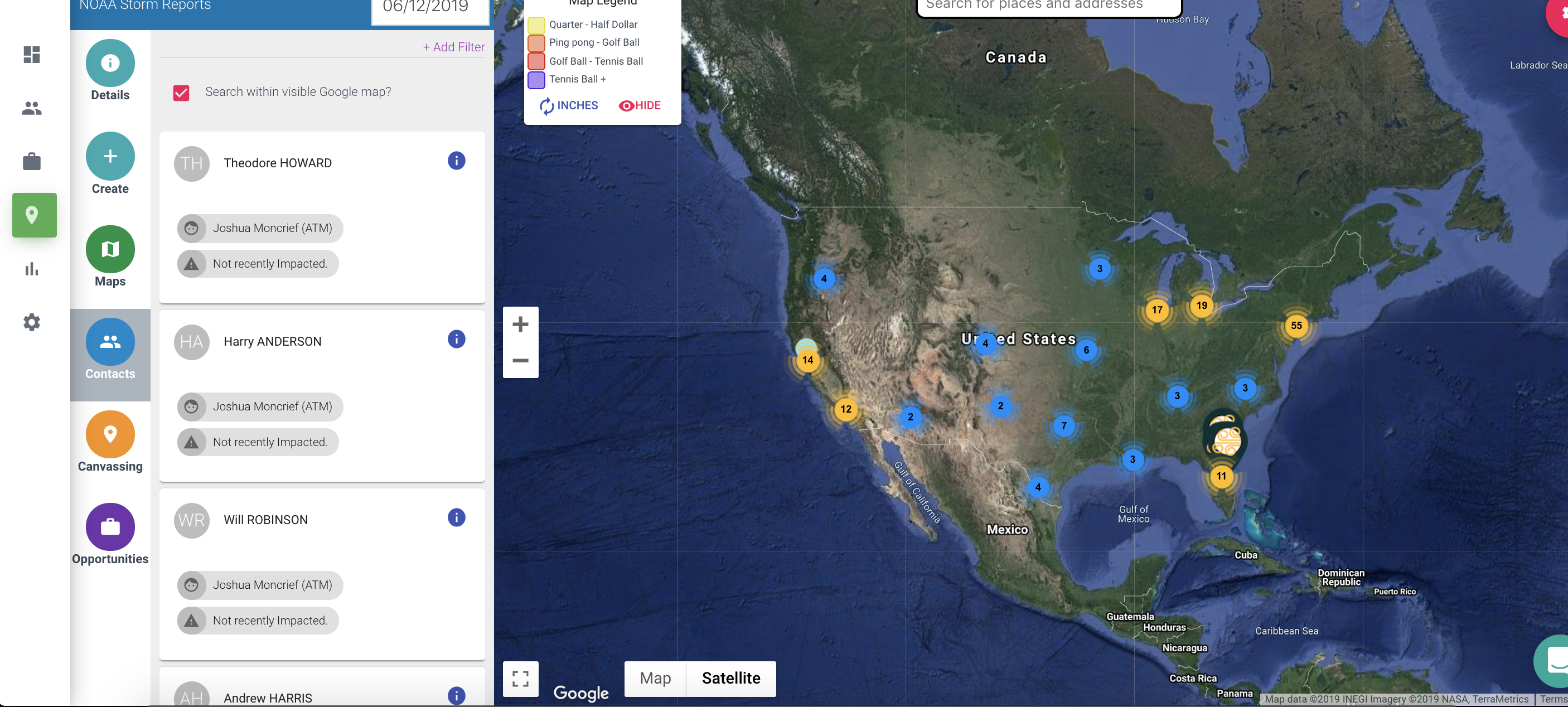 For further help with the HailTrace app, please see the HailTrace Help Center.
Enjoy the integration!