How do I accept Payments using Global Payments?
Accepting payments through Global Payments is as simple as sending Invoices to your customers from JobNimbus, just like always.
All Invoices that you send now will include a large green Make A Payment button for your customers to click and perform an electronic payment.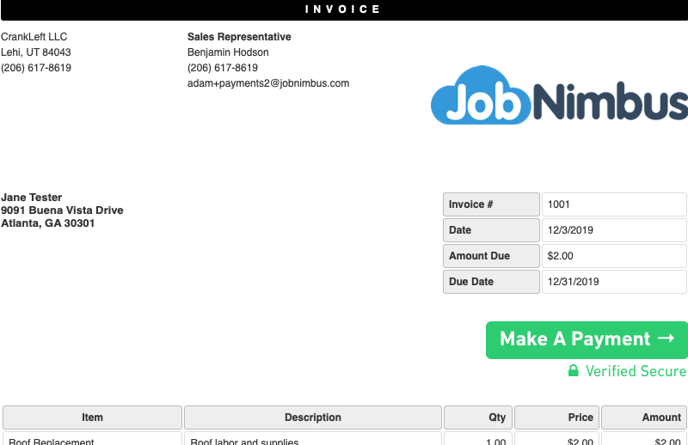 Clicking this button will direct the customer to a payment screen where they can choose how much to pay and select their desired payment method.
Once the payment is made, Global Payments will create an "activity" under that Contact or Job's file regarding the payment.

A receipt will then be sent to the Primary Contact and the Sales Representative of that Contact with details of the payment that was made through Global Payments.
Best Practices for Processing Fees
Since you'll have obtained your fee rate prior to processing payments, we recommend building a buffer into your margins when creating an invoice to ensure this cost is covered.
Another option is to calculate the fee using the invoice's total and add a line item with the dollar amount. Find out more about building an invoice here.

Check with your state laws to confirm that passing these fees along is permitted.
Global Payment processing fees are variable and can be negotiated during your onboarding to give you the lowest possible rate.