Archiving records can help you maintain an organized workflow by eliminating irrelevant information from your view of active projects.
Note:
Archiving does NOT permanently delete records.
Settings
In your JobNimbus Settings, navigate to the Contact or Job Workflows tab (depending on how you have configured your Workflows).
Edit a Workflow and check the box(es) under the Archived column next to the Status(es) you want to identify as "archived".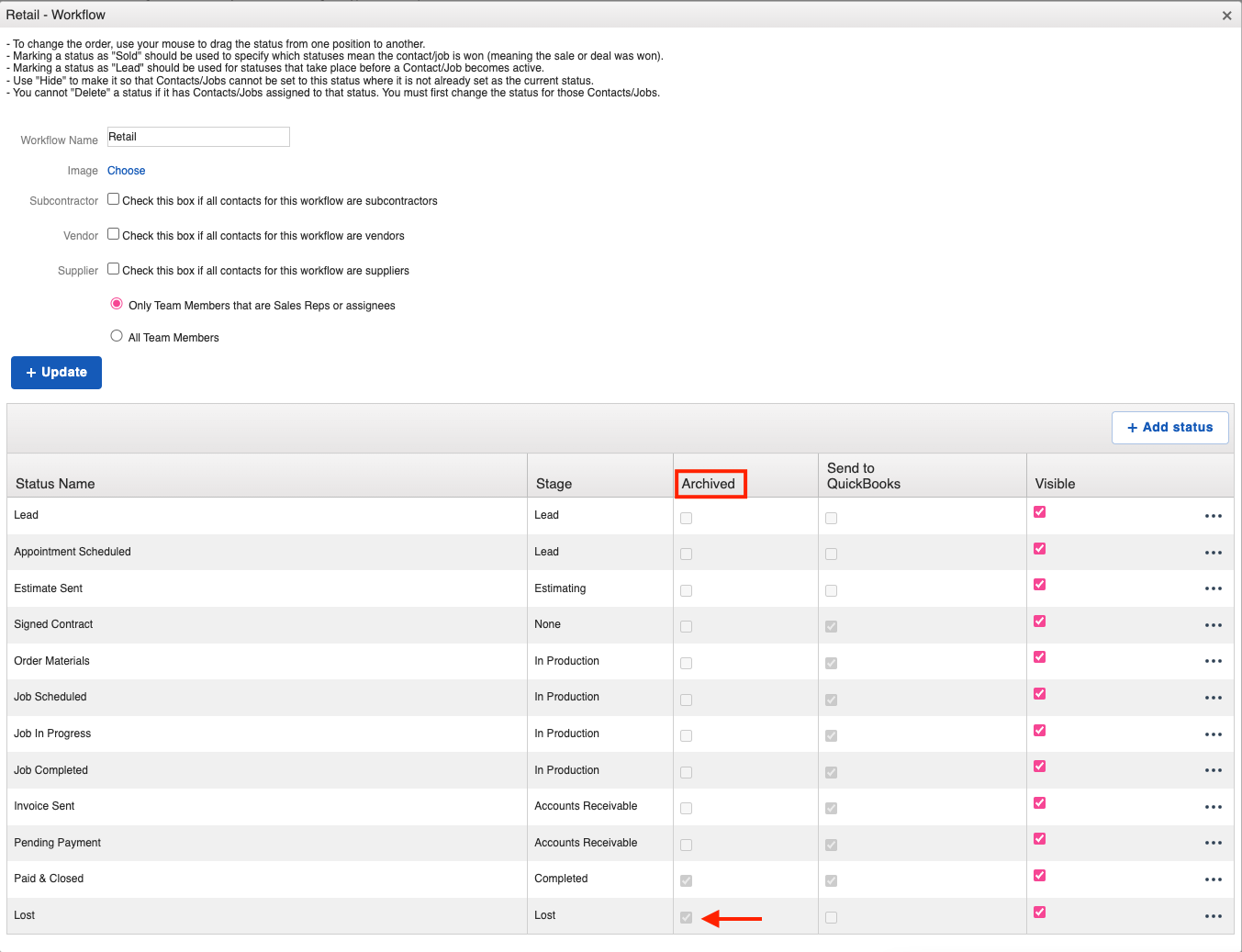 A record can be hidden on a Board when assigned to an archived Status. This is useful when a job has been completed and you want to keep it out of the way of the work in need of your immediate attention, for example.
List View
By default, the List View of your Contacts (or Jobs) will not show records in an archived Status. The following recording shows you how to edit this view to reveal them:


Select the three dots

at the top of the list.

Choose

Customize

from the menu option.

Click

Remove

next to the "Is Archived? > True" filter.
If you want to keep your List view this way, hit Save at the top right. If you want the List to continue displaying only records that are not archived, hit Cancel.
Board View
Refer to the image below for details on how archived Lists show up on the Board view: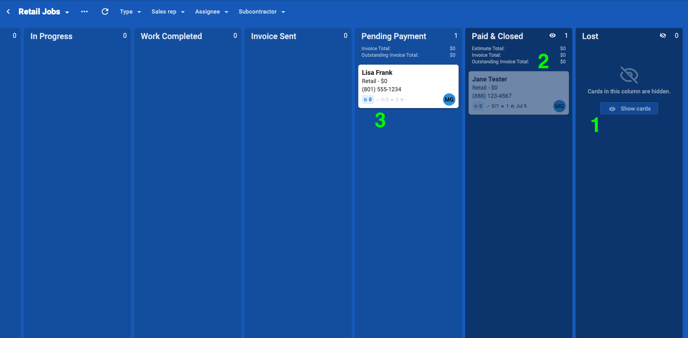 "Lost" is the name of a List associated with an archived Status.

By default, the List will be darker in color and indicate that Cards are hidden from view.

Clicking the Show cards button will reveal the archived Cards but will remain darker than the Lists that are associated with unarchived Statuses.
The "Pending Payment" List is an example of one that is associated with an unarchived Status.

Note that the Card is very visible and the List is a normal color.
More information on how to interact with archived records within Boards can be found here.
Reporting
Similar to how you'd configure your List View, you can create a Custom Contact/Job Report to see archived records.
In the report builder, click Add filter




Choose "Is Archived?" from the drop-down menu
In the pop-up window:

Select "True" if you only want to see records that are archived
Select "False" if you only want to see records that are not archived
Check the box next to "Exclude" to leave those that are either archived or not (depending on whether you chose "True" or "False") out of the report

Click Apply to implement the filter