When you click on the 3 dots next to "My Saved Reports", a drop-down menu reveals the different Custom Reports you can create.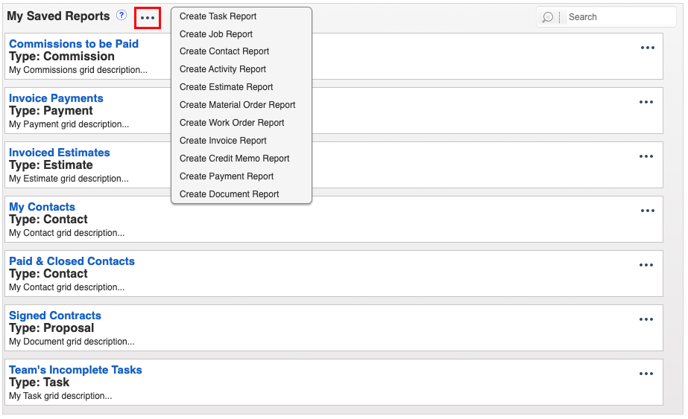 A Task Report will show all Tasks in JobNimbus. It is frequently used with filters to locate incomplete Tasks assigned to team members.
A Contact Report will show all Contacts in JobNimbus. Often, this is narrowed down as a query of active work.
An Activity Report records most Activity done within JobNimbus. An important feature of this report is finding and restoring deleted files.

Side note: we've got a great webinar episode that showcases what an Activity Report can do for you!

An Estimate Report will show Estimates in the program. Organizing this by Status can reveal which Estimates have been accepted and which have not.
A Commission Report will display Commissions that are inputted into Budgets. This can be used to pay out Sales Reps, and see who still needs to be paid.
An Invoice Report will show Invoices in JobNimbus for Contacts and Jobs. It can be useful to note the outstanding balances that still need to be collected.
A Credit Memo Report is a comprehensive report of all Credit Memos. If this functionality is in use, this can give an overview of what refunds are being granted, and for what reasons.
A Payment Report will document all payments that have been recorded in JobNimbus. Filtering this by a given date range can provide a real-time reporting of money taken in during a certain period.
A Document Report will show all Documents inside JobNimbus. Especially useful is the ability to see what Documents have been signed. This report does not include Company Documents.

The following reports are available to create once the respective feature is enabled:
A Job Report will show all Jobs in JobNimbus. It is often used to identify Jobs that are sitting in certain Statuses.
A Work Order Report will show Work Orders in the system. Filtering this by Subcontractors can help identify what has been assigned to which crew.
A Material Order Report will show Material Orders in the system. This can track the revenue you spent on your products.
A Budget Report will show data on all created Budgets in your account. This report will track an overview of your Net vs. Gross Profits for each job.
A Time Log Report can be used to see what work has been done by what team members on what tasks.