How Do I Configure Engage Notifications?
You can "subscribe" different phone numbers to notifications of activity from conversations that are relevant to you.
Within the Engage tab:
Select Phone Numbers from the menu on the left.
Click Edit next to a number.

If you have multiple lines, the ability to Delete will appear next to a number that is not the Company Default.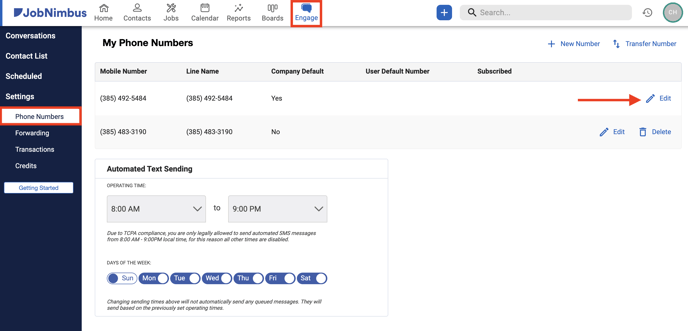 Under the "Subscribe to notifications" section, check the boxes next to a user's name to subscribe them to notifications for that phone number if the conversation is unassigned or assigned to others.

Note: You will always be notified of responses to conversations assigned to you

Make sure to save your changes.


In the example screenshot above, Joe Tester will receive notifications for this number through conversations to which they are assigned (by default) and those that are assigned to others.
Cavin Huntsman will receive be notified of both assigned (by default) and unassigned conversations through this number.
Default Numbers
Company Default

If this box is checked when editing a phone number, it will populate in the "From Number" field when a user who does not have a specific number assigned to them composes a new message by default.



User Default


Any team members selected in this drop-down will be assigned to a specific number when sending a new outbound message. While this allows for quicker message composition, users will still have the option to adjust the "From Number" if they so choose.