How you can connect to QuickBooks Online
Overview:
You can easily connect to Quickbooks Online. You may find that the sync can be incredibly fast once it is setup. Make sure you have setup your workflows first. Also, check the fields article so that you understand what syncs and what does not. Make sure not to sync sub-contractors or vendors because those will enter Quickbooks as customers.
Understand that if you have the same contact in each system, the sync links contacts primarily by the "display name". The display name needs to be identical in each system to link together or you may have the issue of duplication.
Setup steps:
1) Read articles on workflows and fields.
2) Enable the Quickbooks Sync, in "settings", "features" tab, "3rd Party Features", Quickbooks "Enable".
3) Settings "Quickbooks" Tab
4) Select the radio dial button "Quickbooks Online"
5) In Quickbooks Online: Open a tab in your browser and log into your Quickbooks Online account
6) In JobNimbus: Select "Connect to Quickbooks"
7) Review the pop-up box to make sure you are going to connect to the correct account.
8) Select "Connect"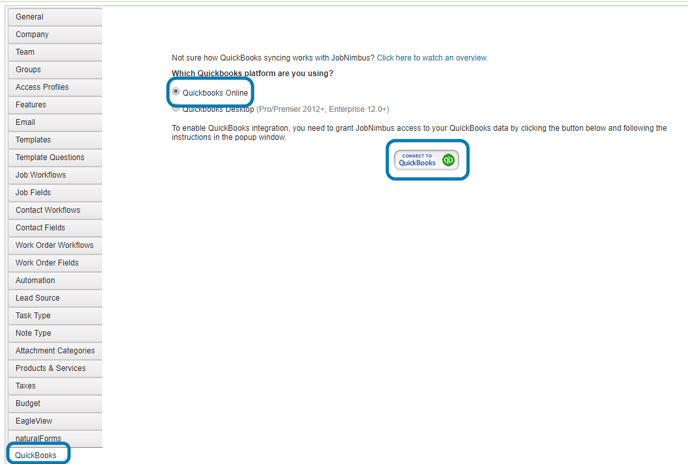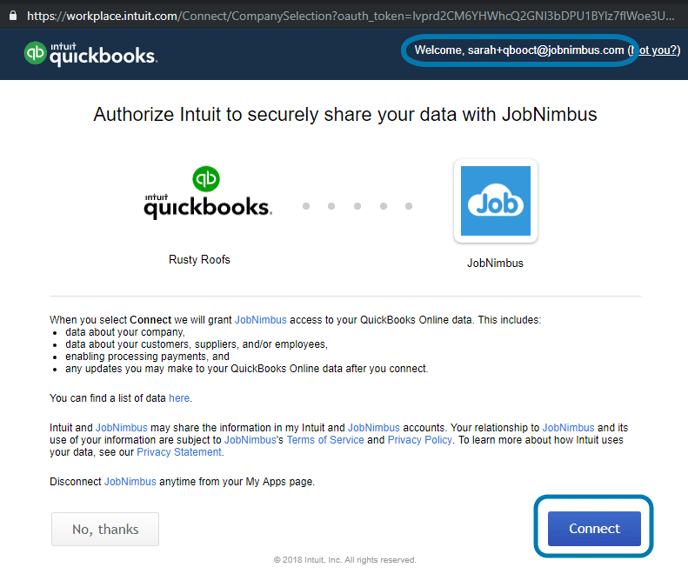 Select which "record types" you would like to sync. You do not need to choose them all. However, in order for invoices/estimates to sync, products need to sync. All active records in Quickbooks will sync to JobNimbus on a two way sync.