Purpose
The Dashboard is a great way to help start your day off right every single time you open JobNimbus. Whether you are looking at your Sales Dashboard or your Classic Dashboard. To learn more about how to use your Sales Dashboard, read our article here.
Here, we will focus on the Classic Dashboard. Your Classic Dashboard uses custom reports you create in the Reports section in JobNimbus. To learn more about creating reports, view our article here. You can customize your dashboard using these reports to choose what you need to see when you first open your JobNimbus account.
Before we get into it
Create custom reports to show the data that matters most to you. You can add these reports to your dashboard to see the information at a glance. Whether you want to see unpaid invoices from the last three weeks or upcoming appointments for your team, you can embed any custom reports you've created right onto your dashboard.
Overview
Your Dashboard is the first thing that comes up very first when you open JobNimbus. You can reorder your dashboard to personalize the display and keep your company's key metrics right at your fingertips. To customize what you see in the Dashboard, click on the "Customize" button near the top of the Dashboard page.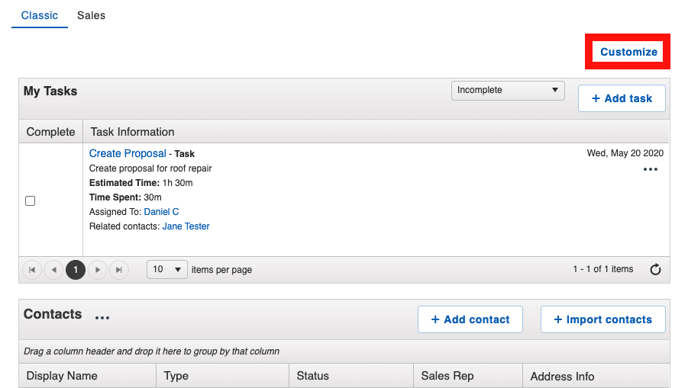 In the window that pops up, you can choose what you want to see in your Dashboard.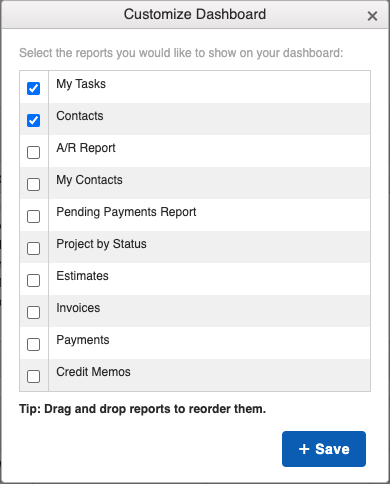 These choices include:
Different Financials
Contacts
Jobs
Tasks
Any custom Reports that you have created and saved. To learn about creating custom reports, read our article here.
Not only can you choose what to see in your Dashboard, you can reorder what you see so the most relevant information is always on top. To reorder the different panels in your dashboard, click on the specific report in the Customize Dashboard window and drag it to the spot in the order you want.
The way you customize your dashboard does not affect other users on your account. The customization will only show on your profile. If someone else on your team wants to see something different, they can customize the Dashboard in their own profile.
Play around with the Dashboard and find something that works best for you.
Do's and Don'ts
Do
Create reports you want to see on your dashboard.
Keep the "My Tasks" option on your dashboard.
Don't
Clutter your dashboard, keep it your most important data
FAQ
Can I alter the "My Tasks" report on the dashboard?
No. However, you can create a new task report in the reports settings, customize it, and add it to the dashboard.
Contact Us
Still have a few questions about your dashboard? Contact Support at (855) 964-6287 or via email at support@jobnimbus.com.
Have a great idea to help us improve our dashboards feature? Recommend features and vote for requests at JobNimbus Feedback!