Purpose
The Import Data feature makes it easy for you to get all of your Contacts into JobNimbus. Once you have your Contacts in JobNimbus, you can get to what you do best.
Right now, JobNimbus does not allow you to import Jobs into your account, but JobNimbus makes it easy for you to import your contacts. Here, we'll go over how to get your Contact list ready to import into JobNimbus and how to import your list into JobNimbus.
Before we Get Into it
In order to import your data, you will first need your records in a .csv file. This is a very common file type you can achieve with any spreadsheet program. Whatever platform you are currently keeping your records in, make sure you have included the data you need, such as Name, phone number, and email address.
If you are using Excel, you can use "Save As" to save your contacts in CSV format.
Overview
Importing your Contacts and Jobs is easy. You can import from two locations in JobNimbus, from your Dashboard, and from your Contacts page.
When you are in your dashboard, click on the "Import Contacts" button in the Contacts panel.

When you are on your Contacts page, using the list view, click on the "Import Contacts" button in the Contacts panel.

After you click on "Import Contacts", you will be taken to a page to import your records. Follow the instructions on the page to import your data.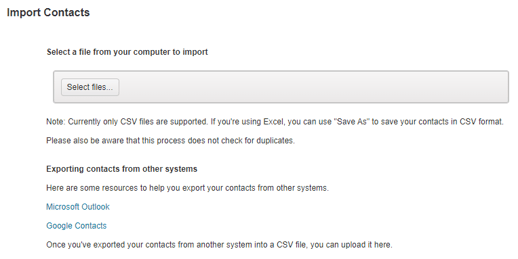 Click on the "Select files..." button and upload your .csv file. Note: importing Contacts may create duplicate contacts.
JobNimbus will scan your file, looking for the number of records, and will try to identify the type of data in each column. After the scan is complete, a series of drop down lists will show, allowing you to choose how to map your spreadsheet's columns into JobNimbus Contacts.
Use the drop-down lists to match each piece of data you are importing with the corresponding JobNimbus field. Once all the fields are mapped to the data you have, click the "Next" button.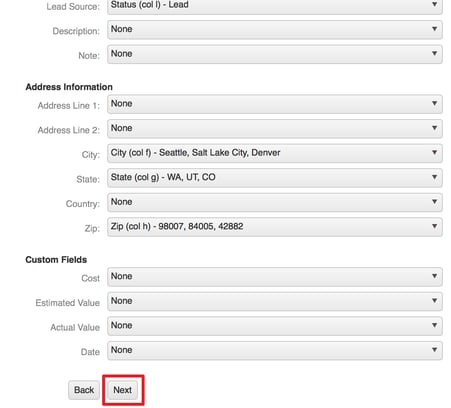 A confirmation screen will appear, showing you the number of records JobNimbus will import.
If any errors are shown on this confirmation screen, do not continue with the import. If you import your file with any of these errors, your data will import incorrectly. Instead, update your spreadsheet file on your computer to correct the errors shown in the error. Then, start the import process over and import your corrected spreadsheet file.
Once you're sure everything is correct and the imported data preview looks accurate, click the "Import Contacts Now" button to start the import.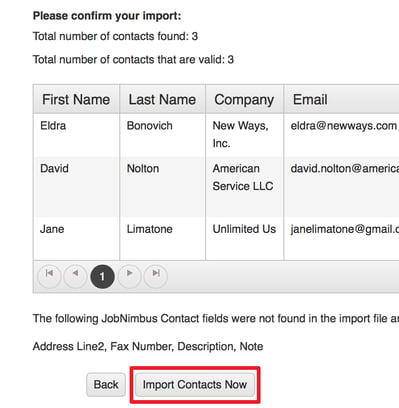 You must click the "Import Contacts Now" button for your records to import. If you leave this screen without doing that, your contacts will not be imported.
Once you click the button, JobNimbus will begin importing your records in the background. You are welcome to use JobNimbus while the process occurs. Depending on the number of records you have imported, the import may take between a few minutes and up to an hour. You will receive a confirmation email from JobNimbus when your import is completed.
If, after you have imported your records you find that you have create duplicated Contacts, review our article on Merging Contacts.
Do's and Don'ts
Do
Compare your file with the "Create Contact" form in JobNimbus to ensure you have the columns you need to import.
Look through your file prior to uploading to eliminate duplicate records.
Confirm the records you are importing to verify they import correctly.
Click on the "Import Contacts Now" button.
Don't
Upload notes or activities, as those will not upload in the Contacts Import feature.
Upload a file that is not .csv file format.
Next, visit our article on Contacts.
FAQ
I imported my contacts, but it created a lot of duplicates. How do I get rid of the duplicates?
If you have accidentally created duplicates. Follow our article on Merging Contacts.
I went through the process, but nothing happened.
Make sure to click on the button labeled "Import Contacts Now" to start the upload.
Contact Us
Still have a few questions about importing your contacts? Contact Support at (855) 964-6287 or via email at support@jobnimbus.com.
Have a great idea to help us improve our contacts import? Recommend features and vote for requests at JobNimbus Feedback!