What Are the Main Components of the Insights Workflow Dashboard?
Drive efficiency and revenue by identifying bottlenecks and productivity concerns in your Workflows.
Workflow Dashboard
Easily track how fast jobs are being completed and have the data to quickly address productivity concerns so you can effectively plan production work.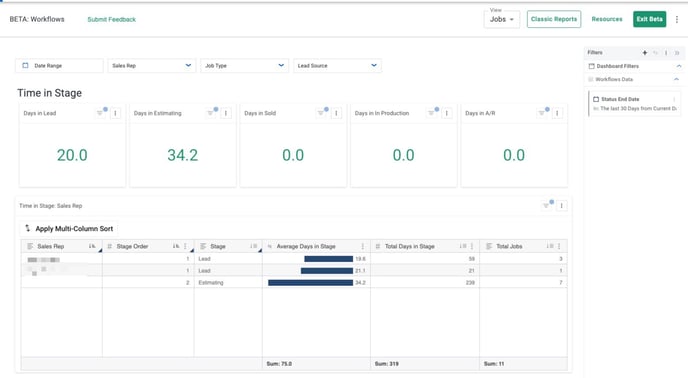 Filter Data
Slice and dice the reporting information by applying filters

Date Range
Sales Rep
Job Type
Lead Source
Definitions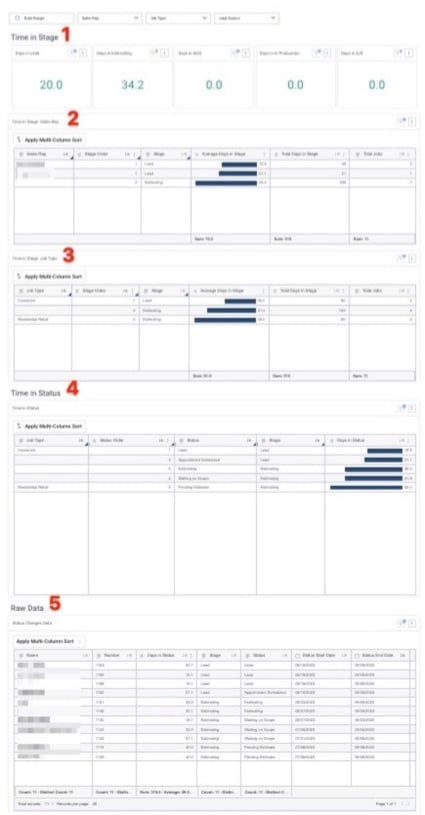 Time in Stage- Individual charts give an easy to digest snapshot of the average days in Stage for a quick overview of your jobs journey from Lead, all the way through to Completed.

Time in Stage:Sales Rep- Look at each Sales Reps average days in Stage data so you can capitalize on their strengths and quickly focus in on any areas for improvement.

Time in Stage: Job Type- Analyze your target markets by type so you can doubledown marketing and sales efforts where the work is needed.

Time in Status- Visual charts give a clear representation of where jobs are hanging in for the longest periods of time. Use this data to identify areas where you can simplify and streamline your Workflows.

Raw Data- This chart shows a comprehensive list of all jobs and their complete history highlighting their current Stage and Statuses.