To enable Template Questions:
Click on your profile icon or initials in the top right corner
Choose Settings from the drop-down menu
Within the Settings menu, open the Features tab
Toggle the switch next to Template Questions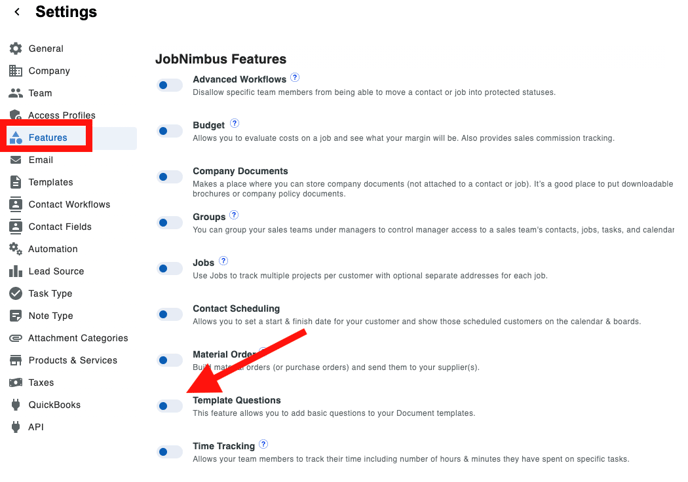 To create a set of Template Questions:
Open the Template Questions tab on the lefthand side
Click on the blue +Add template question list button

The following pop-up will appear:

Name your Template Question List and click on the blue +Add template question list button. The list will then appear on your Template Questions page.
To add questions to your list:
Click on the 3 dots to the right of the list name
Select "Manage Questions" from the menu

This will bring up the "Manage Questions" window.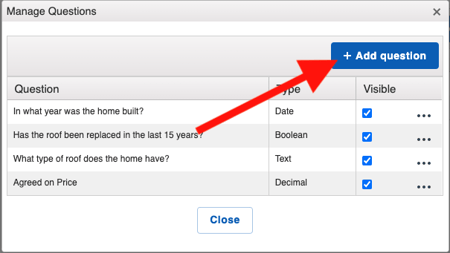 This will bring up the following window:

In the "Add Question" pop-up, you can:
Add the question you will need to answer for your document template.
Choose the type of answer for your question. The "types" of answers you can choose are:

Decimal. This is a number that includes a decimal point.
Number. This is a whole number.
Text. This can include a combination of words, numbers, and symbols.
Boolean. This will give you a checkbox to indicate "yes" or "no".

Save the question to your template list.
Saving the question will add it to your Template Question list.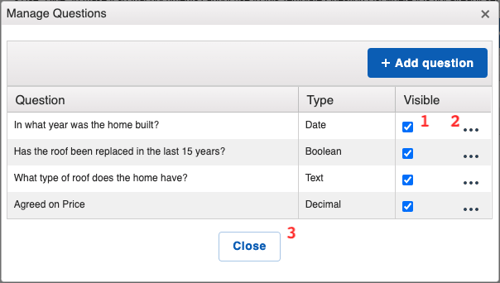 After you have added your questions, you can:
Mark the question as either visible or hidden.

All template questions show and are available to answer when creating documents using a document template unless they are marked as "hidden". Hidden template questions will only show when creating a document if that specific template question field has been added to the document template. If a template question has been answered, but the template question field was not added to the document template, the answer will not be added to your document.
Pull up the drop-down menu for the question. The options in the drop-down are Edit and Delete.
Close the Template Question list window.
After you have created your list of questions, you can add them to a Document Template. Click here to learn more!