How do I upgrade an EagleView QuickSquares Report to a Premium Report?
You can easily upgrade to a Premium Report without having to leave your JobNimbus account.
Within the associated Contact or Job's Documents tab, select the blue Upgrade Report button found next to the existing QuickSquares Report.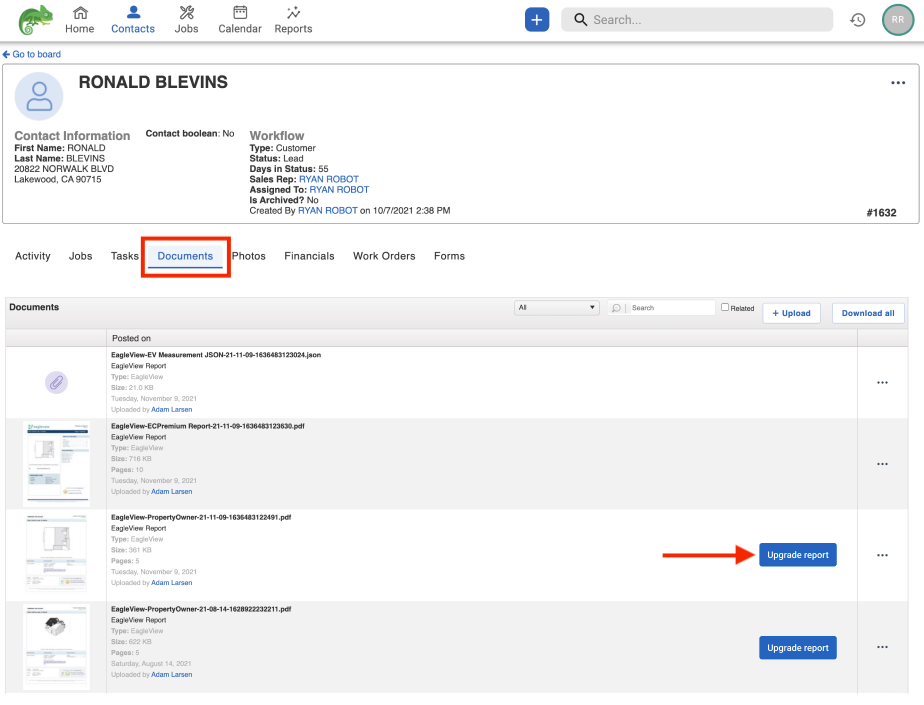 Configure the delivery method and number of structures as needed, then click on the blue Upgrade report button to proceed.
Note: the Report type will automatically align with the type of QuickSquares report being upgraded and cannot be adjusted.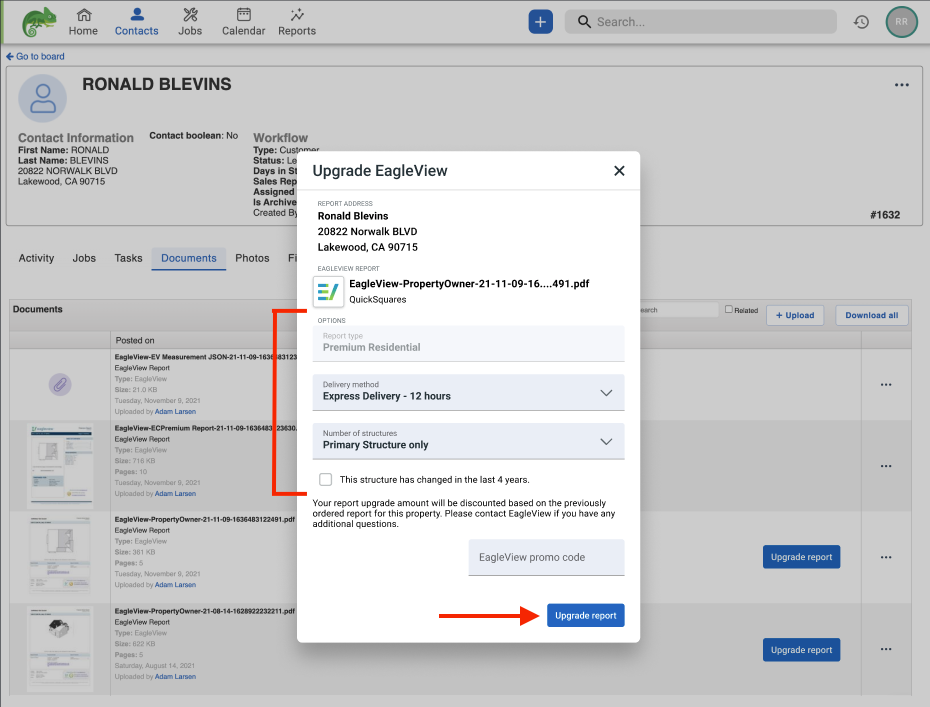 A confirmation will appear, letting you know when the report can be expected (depending on your method selection in the previous step).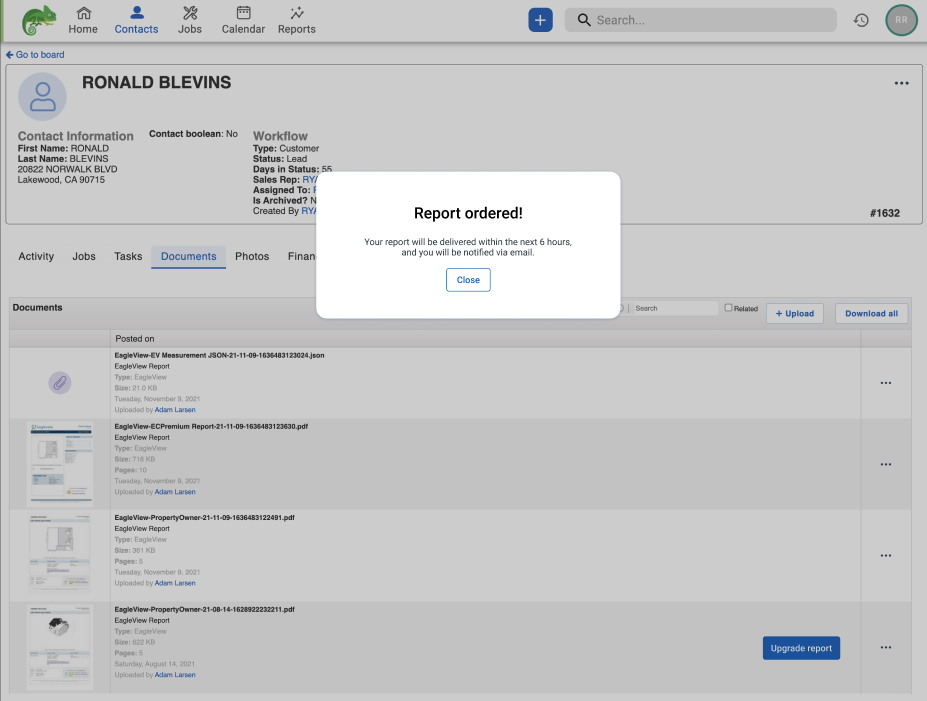 Alternatively, you can upgrade a QuickSquares report through the 3-dot action menu in the top right corner of the Contact or Job's information pane.
Select Order EagleView from the dropdown options.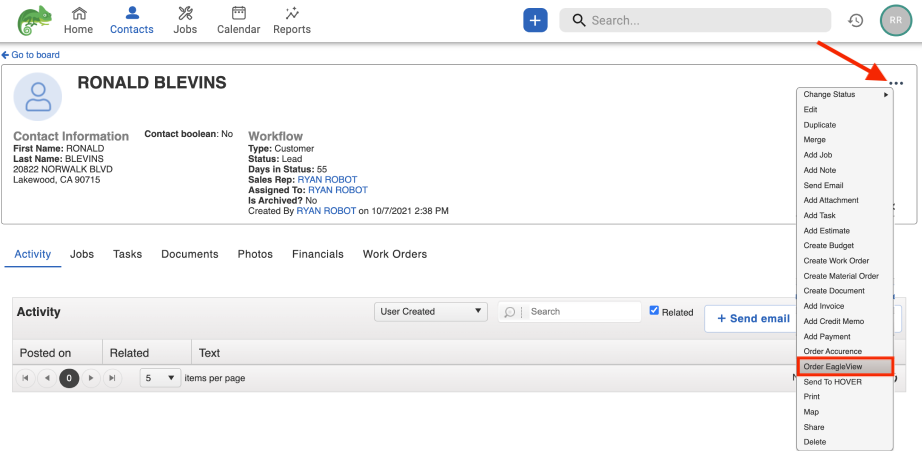 The system will pull the existing QS report that you can upgrade by selecting Next, or you can choose to order a new report from this pop-up.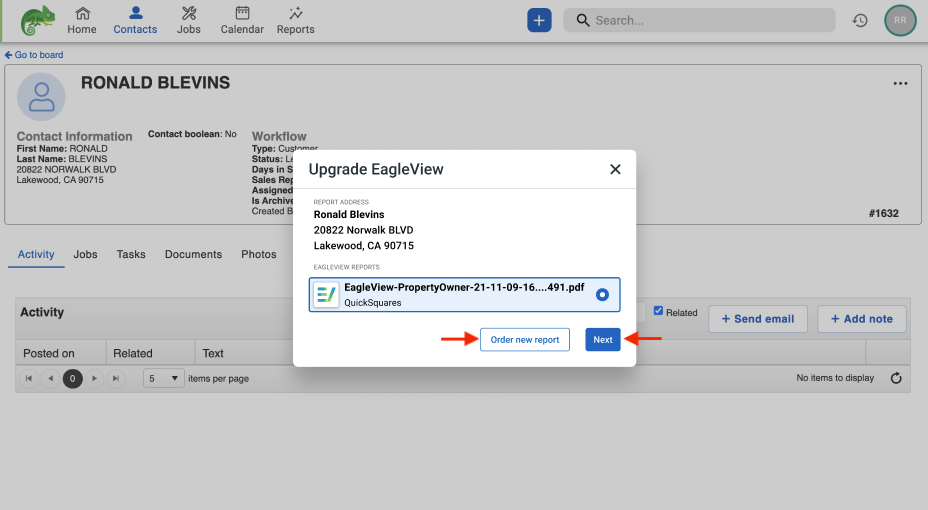 You will then be directed to configure the order as outlined in the steps above.

FAQ


What is the cost of upgrading a QuickSquares Report to a Premium Report?
A QuickSquares Report costs $18.00 to order. Premium Report costs vary depending on a number of factors. However, the price to upgrade from QuickSquares to Premium will always include the $18.00 you already paid for the initial QS Report.

(cost of Premium - cost of QuickSquares ($18.00) = total billed for the upgrade)
Is there any downside to first ordering a QuickSquares Report and then upgrading it to a Premium, as opposed to ordering a Premium report right off the bat?
Absolutely not! Since the cost of a QuickSquares Report is essentially reimbursed when upgraded to Premium, you can ultimately save a little money if you're not sure you need a Premium Report initially.