Purpose
Boards is a great way to visually manage your Contacts, Jobs, and Work Orders. This can be used much like the white board in your office.
Before we Get Into it
Make sure you have created your Workflows. If you haven't created your Workflows, yet, read our article to learn how.
After you have created your workflows, break them up into smaller segments. These segments should closely match how your jobs' progress and can match how and when your different teams are dealing with the jobs. Name each of these segments, such as Sales, Production, and Billing. These will now be your different boards.
Default Boards
For your convenience, JobNimbus has included industry standard Boards that match your default Workflows to help you set up your account quickly. These Boards are color coded for your convenience. The Boards are as follows:
Sales
Follow Up
Office Approval
Production
Billing
Service/Repairs
The Boards by color are as follows:
Blue - Residential
Green - Residential/Insurance
Red - General Contract
Black - Service/Repair
If any of these Boards don't work for your company, feel free to delete them.
Overview
Like the whiteboard in your office, you can move Jobs and Contacts from one job stage to the next so everyone in the company can see the progress and what needs to be done next. You can use this to help your team members across all departments stay on the same page.
Accessing your Boards
To get to your Boards, click on Contacts, or Jobs if that's enabled. If you do not already see your Boards, click on the "Board" button. This will pull up all of your Boards.

Building your Boards
To create a new board, click on the grey box with a "+".

This will bring up the Add Board window where you can start creating your Board.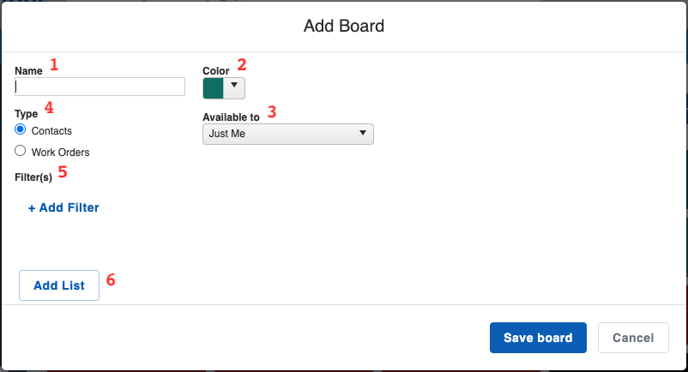 In this window, you can:
Name your Board.
Select a color for your Board.
Choose who it is available to. Your options are All Team Members or Just Me. Note: if this Board is set to "Just Me", no one else will be able to see it.
Set your Board's Type. Note: this will only be available if the Work Orders feature is enabled.
Set filters for your Board. You can filter the Board to show only certain types of Contacts, Jobs or Workflows, or Contacts, Jobs, or Workflows assigned to specific team members. These filters include:

Assigned to
Location
Sales Rep
Subcontractors
Type

Add Lists to your Board.
To add your workflow statuses like you would on a whiteboard, click on the "Add List" button.

In the lists section, add a name for your list, choose which status or statuses in your Workflows the list will be tied to, and choose how the Contacts, Jobs, or Work Orders (records) in your list are sorted. These lists will show up as columns on your Board.
The name you give the list will show up at the top of the column and only the records with the status or statuses you included in the list will appear in the column. Note: these statuses are Workflow type specific unless you specify in the Status field, "All Workflows".
Once you are done adding Lists to your Board, click on the "Save Board" button.
When creating your multiple Boards, we recommend you add a "Lost" status to the end of each Board. Also, start each Board with the same Status with which you ended the previous Board. For example, if you ended the previous Board with "Residential Retail - Job Approved", begin the next with "Residential Retail - Job Approved". This will make sure the Contacts that are at the end of one Board will show up on the next so you can continue to move them through the Workflow smoothly.
If you need to edit the list further, click on the 3 dots in the right of the List's row and select "Edit" from the drop-down menu. This will take you back to the screen to edit the particular List.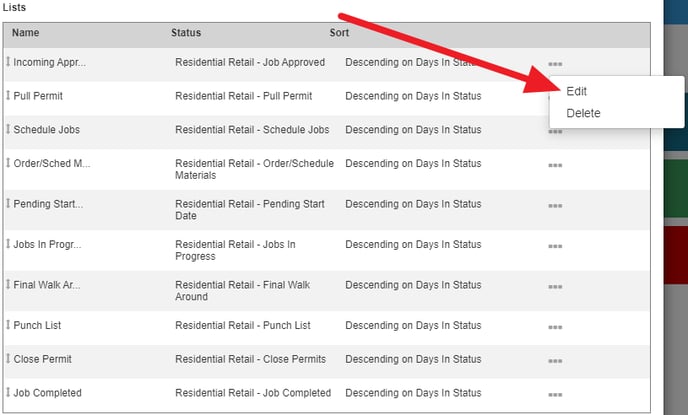 To delete the list from the Board, click on the 3 dots in the right of the list's row, and select "Delete" from the drop-down menu.
If you need to rearrange the lists in your Board, click on the particular list and drag it to its new location in the Board. This will update how your columns are organized in your Board.
Using your Boards
Inside your Board, you can see all your records that are in the statuses you specified for that board. Each record is shown as a card in the listed column. You can drag and drop these cards to move your records between statuses in the same Workflow in an easy-to-use, visual way.

If you need to edit the Board, click on the 3 dots in the upper right corner of the Board and select "Edit" from the drop-down menu. This will take you back to the Edit Board window.

If you need to delete the Board, click on the 3 dots in the upper right corner of the Board and select "Delete" from the drop-down menu.
Do's and Dont's
Do
Keep your Boards simple
Sort your Board in the most readable way for your team
Make sure everyone on your team understands the flow
Include an "Archived" status in every Board just in case you lose a job. This helps to make sure your Mobile App doesn't get slowed down with excess data.
Make the last step (excluding your archived status) of one board the first step of your next step.
Don't
Include tasks as lists - just statuses
FAQ
I used to have a specific Board, but it is no longer available. Where did it go?
Check to see if someone on your Team has access to the Board. More often than not, the Board's "Available to" settings have accidentally been changed to "Just Me" making it only available to that specific Team Member.
I cannot move a contact or job from one list in my board to the next. Why?
Check your Board's settings to make sure that the status of the workflow for your record is available where you're trying to move it. Also know that you are unable to move a record from one workflow type to another.
Contact Us
Still have a few questions about setting up your company's boards? Contact Support at (855) 964-6287 or via email at support@jobnimbus.com.
Have a great idea to help us improve our boards? Recommend features and vote for requests at JobNimbus Feedback!