Which WePay payment method should I choose?
There are two ways you can receive payment through WePay:
We recommend that you start with using ACH / E-Check payments as they are quick and easy for your customers to complete. The fees are also lower, making it easier to build into your budget.
We'd suggest covering the fees for your clients' ACH payments, at least at the start. Most JobNimbus users who are accepting payments are having greater success collecting full payment faster by choosing to waive the fee for their customers.
When receiving an ACH payment, your client will be sent two micro-transaction deposits of which they will need to verify the amount with WePay via email before they can send their payment.
To only accept ACH / E-Check payments:
Uncheck the box next to "Enable Debit/Credit Card Transactions"
Click "Save"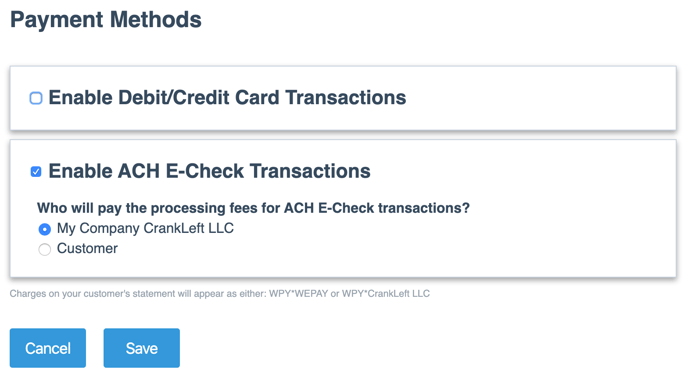 Now, when you send an invoice to your customer from JobNimbus, it will include a green "Make a Payment" button allowing them to submit an ACH / E-Check payment directly from their bank account into your WePay account.