Contact JobNimbus Support

If you have any questions about your JobNimbus account feel free to contact JobNimbus Support at (855) 964-6287 or via email at support@jobnimbus.com.
If you could also provide an example of the issue and steps to replicate which include screenshots, that will help us expedite your request.
If you are experiencing technical issues, please try the troubleshooting steps below. If the steps below don't work, call JobNimbus Support to further assist you.
If you are wanting to learn how to use a specific aspect of JobNimbus, please visit our Knowledge Base.
When contacting JobNimbus, please provide your name, JobNimbus login, and phone number.
Sending an Applog
Sometimes, JobNimbus Support will ask you to send an applog from your mobile device. This helps us better determine what the model and make of your phone are and the version of JobNimbus you are using. It also gives us a detailed log of your phone. This can help us figure out a solution faster.
You can send the app log from either the login screen or from within the mobile app itself. To send from the login screen, click on the circle with the "i". This will take you to the help screen where you can send an email or call in.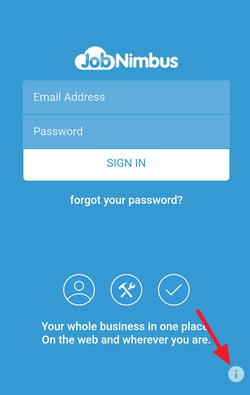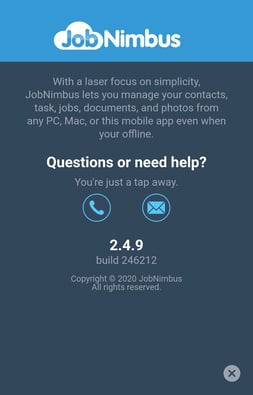 Click on the email icon, type out a subject line that describes your issue and put more information about the issue in the body of the email. Make sure you do not delete any of the information that is already there as that is information the Support team will need to assist you.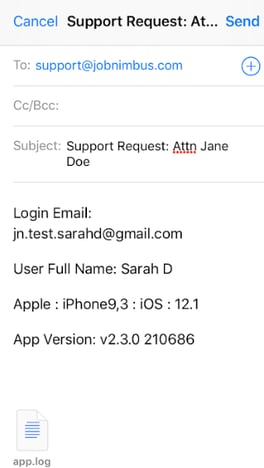 To send the applog from with the Mobile App, click on the 3 lines in the upper left corner of your screen and select "Get Help" from the drop-down menu. This will open an email for you to send to JobNimbus Support.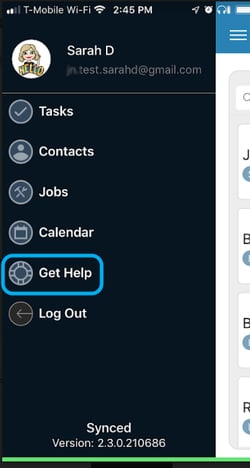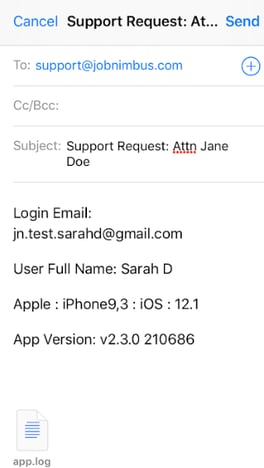 Subscriptions
When I click on my name in the top right corner, why can't I see Subscription in the menu?
In order to view Subscriptions, you will need to have Subscription Access in the Access Profiles settings. To learn more about Access Profiles and how to change them, visit our article on Settings.
To learn more about your Subscription, click here.
Settings
I sent the invite, but my Team Member didn't receive it.
When you hire a new Team Member, first make sure their email is set up and ready to receive emails. Otherwise, their email address will bounce and they will not receive it. Also, make sure you enter their email address correctly.
I used to be able to add Team Members, but I can no longer add them. Why can I not add more team members?
Check your Access Profile Settings. If you have reached your maximum number of available Team Members, or your maximum number of available seats, you will no longer be able to add Team Members unless you have Account Subscription Access.

To learn more about your Settings, click here.
Contacts
I went through the process of importing contacts, but nothing happened.
Make sure to click on the button labeled "Import Contacts Now" to start the upload.
Why can I not add a related contact by typing the email address in the related contacts field?
Odds are, the contact you are trying to relate the Contact to doesn't have the email address in their information. Update the contact's information and try again.
To learn more about your Contacts, click here, or click here to learn more about Importing Contacts.

Financials
Why do I see another contact's records in the financial section?
Check to see if you have the "Related" box checked in the appropriate financial document panel. The "Related" checkbox can be found to the right of the Search feature.

To learn more about your Financial Documents, click here.
Contact Us
Still have a few questions about JobNimbus? Contact Support at (855) 964-6287 or via email at support@jobnimbus.com.
Have a great idea to help us improve JobNimbus? Recommend features and vote for requests at JobNimbus Feedback!