Purpose
Workflows are the backbone of JobNimbus. Your workflow is the pipe through which your Contacts and Jobs move through JobNimbus. It starts when you acquire a lead and ends when you complete the job and get paid, showing every step of progress along the way so you can make sure nothing slips through the cracks.
JobNimbus makes it easy to create and update your workflows so they include every step your job takes through completion. Here, we will talk about how to know which workflow is right for you, how to create your own workflow, and how your workflows will be used in JobNimbus.
Before we Get Into it
Before we start, decide if you will be using Contacts or Jobs and if you will be needing to use Work Orders. To help you decide what workflows you will need to use, review the flowchart below.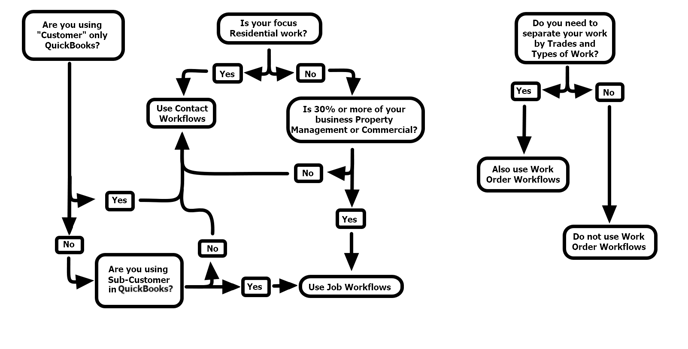 Once you have decided which workflows you will be using, identify the types of work you do, whether that's residential or insurance, or service and repair. Then, write out your job process from start to completion for each type of work. Start from when you generate a lead to when the job is completed. These steps in your processes you make will become your statuses. Make sure you include a step for Lost in each.
Next, break up the different statuses into groups labeled Lead, Estimating, Sold, In Production, Accounts Receivable, Completed, and Lost. These will be stages in your different Workflows. Breaking your statuses into groups for stages will help you later with Sales Reports.
If you are planning on using QuickBooks, label which statuses you will need to use to send your Contacts or Jobs to QuickBooks.
Next, mark which statuses will archive your Contacts and Jobs. Archiving Contacts and Jobs will help keep your records clean.
Default Workflows
For your convenience, JobNimbus has included industry standard Workflows to help you set up your account quickly. The Workflows are as follows:

CONTACT AND JOB WORKFLOWS
Residential Retail
Residential Insurance/Retail
Commercial GC
Service & Repairs
WORK ORDERS
Roof
Siding
Gutter
Window

If you don't need any of these Workflows, feel free to hide or delete them. To learn more about deleting or hiding your Workflows, visit our section on Hiding or Deleting Workflows.
Overview
Workflows influence everything in JobNimbus. Through the use of workflows, you can visually track your Contacts, Jobs, and Work Orders through the use of Boards, you can create Automations to help you with your day to day process, and you can create Reports to filter through your records.
Statuses
Statuses keep your Contacts and Jobs organized. Statuses show the progression of your job process from beginning to end. Statuses can send your Contact or Job information to QuickBooks and can even archive the record so it doesn't show up in your Contact or Job lists.
Stages
Stages are tied to statuses and will help you with the Built-in Reports and Sales Reports in JobNimbus. You should add a stage to each status when building or editing Workflows. They can be found in the Edit Status window.
Workflow Types
Workflow Types will keep your job processes separate and organized. Each type is a Workflow title. Your statuses are tied to specific Workflow types. Note: you cannot change a Contact or Job to a status in a different workflow type than the one they are assigned. If you wish to do so, you must first change their type.
Contact Workflows
Contact Workflows are used for the Contacts in your JobNimbus account. When you create your Contact Workflows, plan out how your Contacts will move through your job processes. Start with when they are added as a Lead and end with when the Job is Complete and Paid. Make sure to always add a Lost Status to each Workflow Type. If you are adding subcontractors and suppliers, they will also need their own workflows.
Accessing the Contact Workflow
To get to your Contact Workflow, click on your name in the top right corner of JobNimbus and select "Settings" from the drop-down menu.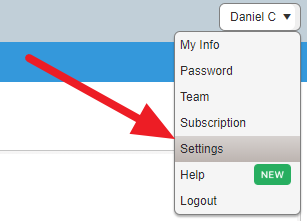 In your Settings, select Contact Workflow from the menu on the left side of the screen.

Creating a New Workflow
Once in your Contact Workflow, click on Add Workflow.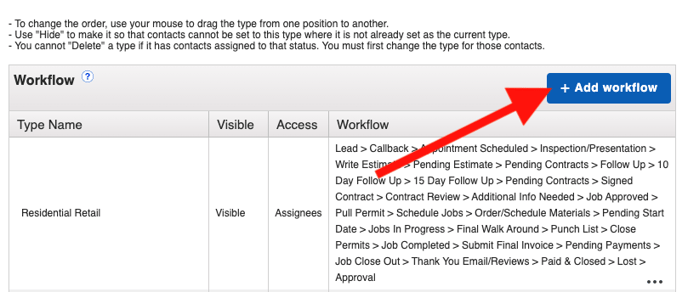 In the Add Workflow window, you can edit your workflow settings and information.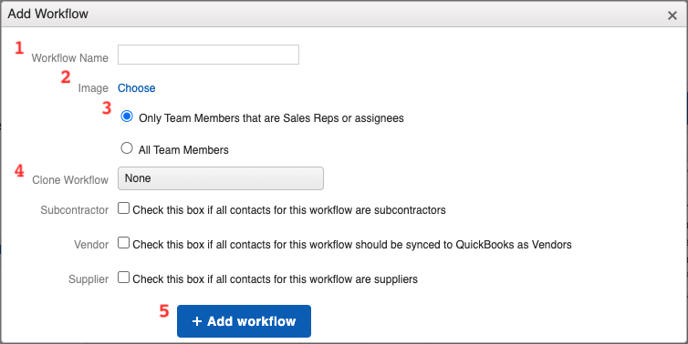 Start by giving your workflow a name. This name should help describe what your Workflow Type is, such as Residential, Commercial, or another name that will describe the type of job this workflow is for.
If you want to, choose from a list of preset icons to add an image to the workflow.
Choose who will be able to see the Contacts in the Workflow. Choosing "Only Team Members that are Sales Reps or assignees" will only show contacts with Statuses in the Workflow to Sales Reps or Assignees associated with the Contact. If a Team Member is not assigned to the Contact, they will not be able to see or search for the Contact in JobNimbus. Choosing "All Team Members" will allow everyone to see the Contacts in that specific Workflow.
Cloning a Workflow will allow you to duplicate a Workflow you have already created so you can either change it slightly to fit the new Workflow, or use the same list of statuses for two different Workflow types.
After you have added the Workflow details and information, click Add Workflow.
Adding Statuses to your Workflow
In the edit Workflow window, you can add statuses and create your Workflow. Add statuses by clicking on "Add Statuses" in the status panel below the Workflow details and information section.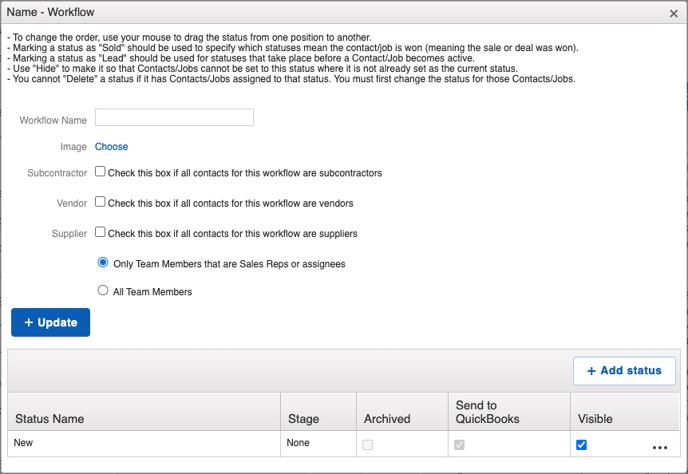 In the Edit Status window, you can give your status a name. Use the statuses you wrote down when creating your job processes.

Next, select a stage. This stage also comes from the lists you wrote earlier. Remember, the stage affects your Sales Reports, and you should not include more than 1 Lead and 1 Sold stage per Workflow as this will have adverse effects on your reports.
If the status should archive the Contact or Job, check the box labeled "Is Archived?". The purpose of archiving Contacts and Jobs is to keep those records off of your lists, boards, and mobile app, so, that you can focus on your open work. However, if you ever change a record back to a status that is not considered Archived, it will pop back into your lists, boards, and mobile app so that you can work on it.
If you need to access the archived Contact or Job, you can always search for it using the search feature. You can also create a report to view all of your archived Contacts or Jobs so you can access them. To learn more about creating custom reports, read our article here.
If the Status should send the Contact's or Job's information to QuickBooks, check the box labeled "Send to QuickBooks". Once the Contact or Job is moved into that status, it's information will be synced over to QuickBooks.
When you have created the status, click "Add Status". Go through, and add each of your statuses to the Workflow.
If you need to update the status after creating it, click on the 3 dots to the right of the status's title and select "Edit" from the drop-down menu. This will take you back to the Edit Status window. If you need to reorder the statuses in your Workflow, click and hold a status and drag it to the spot in the Workflow where it needs to be, the Workflow will sort accordingly.
When you are done creating your Workflow, click "Update".
Hiding or Deleting Workflows
If, by any chance, you need to hide or delete your Workflows, click on the 3 dots to the right of the Workflow title and choose either "Hide" or "Delete" from the drop-down menu.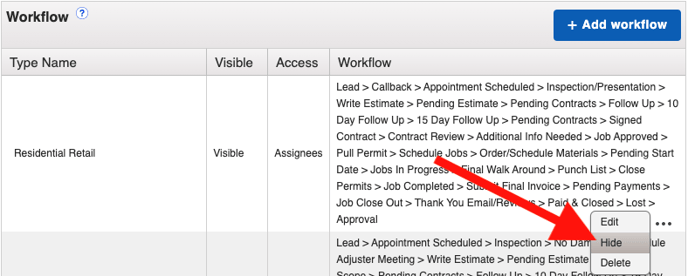 Hiding a workflow will just hide it from your team members, keeping the statuses intact for all of your Contacts or Jobs in the Workflow. Your team members just won't be able to add Contacts or Jobs to the Workflow or move Contacts or Jobs through the Workflow once it's hidden.
Deleting the Workflow will remove it from your Settings. Note: you won't be able to delete a Workflow that has Contacts or Jobs in it.
Do's and Dont's
Do
Have a separate Workflow for each type of Contact or Job (i.e., Residential, Commercial, Retail)
Have each Workflow go from when a lead is acquired to when the job is paid and closed.
If syncing to QuickBooks, have "Sync to QuickBooks" selected for every status "Sold" and after, excluding "Lost".
Check "Archived" for "Paid and Closed" and "Lost".
Check "Visible" for all desired statuses.
Don't
Checkmark "Lead" or "Sold" for more than one status - it will mess up reports if you do.
Skip the "Lead" or "Sold" status - will also affect reports.
Have a "Lead" Workflow separate from a "Production" Workflow - the Boards will split it up.
Next, visit our article on Boards.
FAQ
I am trying to move a contact from one status to another, but I can't.
You are unable to move contacts from one Workflow to another. Check to make sure the status you are trying to change the contact to is not in another Workflow type. If you find you are having trouble moving statuses through a Board, make sure the statuses in the Board are all in the same Workflow type.
I made sure the Workflow types are the same, but I still can't move a contact to another status.
Check your workflow. If you have Advanced Workflows enabled, make sure that you have access to update the status. When in the Edit Workflow window, check the "Access Profiles" column next to the Status to make sure you have the permissions to update the contact to the specific status.

My Sales Reps are seeing leads from other Sales Reps. How can I make sure they are only seeing their Leads and the Contacts they are assigned to?
You can change who sees which contacts in your workflows in your workflow settings. To change your workflow settings so Sales Reps and Team Members are only seeing Leads and Contacts to which they are assigned, check the box marked "Only Team Members that are Sales Reps or assignees" in the Edit Workflow window. Also, make sure your Team Members have a Limited Access Access Profile. To learn more about Access Profiles, read our articles on Settings.
How do I make it so a Workflow isn't seen by anyone, but I don't want to delete it?
If you want to hide a workflow without losing the statuses of the contacts you have in the workflow, you can do so in the workflow settings. On the Workflow page, click on the 3 dots to the right of the workflow type you would like to hide and select Hide from the drop-down menu.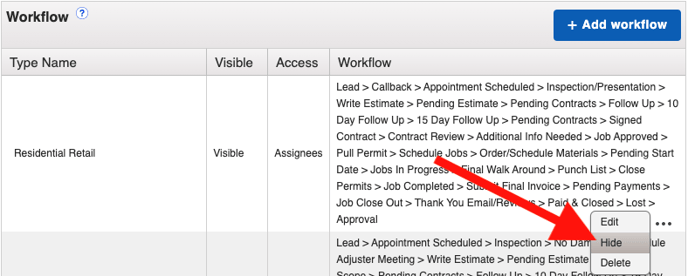 When the workflow is hidden, your team members will not be able to move contacts to the workflow type, but workflow's structure will be preserved for the contacts already in it.
What happens to my data if I archive a Contact or Job?
Your data is safe. It is simply not displayed. You can easily find and search archived records online in the web app.
What happens if I never archive my Contacts or Jobs?
You may have so much data that it will cause the mobile app not to load. It will also cause your JobNimbus account online to perform poorly. Generally speaking, the mobile app will be slower with more than 2,000 contacts as your phone capabilities are more limited than a computer. While we don't limit how many contacts you have, it does impact your account. More than 10,000 live contacts will likely slow your account down.
Contact Us
Still have a few questions about setting up your company's workflows? Contact Support at (855) 964-6287 or via email at support@jobnimbus.com.
Have a great idea to help us improve our workflows? Recommend features and vote for requests at JobNimbus Feedback!